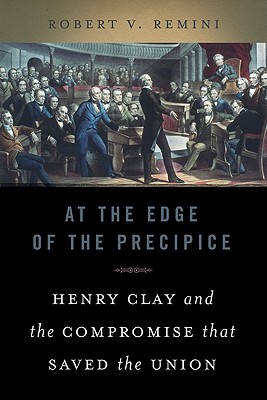 At the Edge of the Precipice: Henry Clay and the Compromise That Saved the Union (Hardcover)
Henry Clay and the Compromise That Saved the Union
Basic Books, 9780465012886, 200pp.
Publication Date: May 1, 2010
* Individual store prices may vary.
or
Not Currently Available for Direct Purchase
Description
A National Book Award-winning historian narrates Henry Clay's heroic brokering of a bipartisan compromise that saved the nation
About the Author
Robert V. Remini, historian of the U.S. House of Representatives, has been teaching and writing about American history for more than half a century. He has written more than twenty books, including the definitive three volume biography The Life of Andrew Jackson, which won the National Book Award (1984). His other books include biographies of Henry Clay, Daniel Webster, John Quincy Adams, and Joseph Smith. His Andrew Jackson and His Indian Wars won the Spur Award for best western nonfiction from the Western Writers of America. He lives in Wilmette, Illinois.
Praise For At the Edge of the Precipice: Henry Clay and the Compromise That Saved the Union…
Library Journal
"Award-winning historian Remini…draws on his immense knowledge of antebellum American politics and sectionalism to give an informed and lively recounting of the (in)famous Compromise of 1850…. Remini's great strength is making sense of the many and various personal and political interests entangled in the slavery issue and in showing how the 'great men' like Henry Clay tried to manage sectional reconciliation and their own ambitions."

Publisher's Weekly
"Remini ably dissects a dangerous moment in the nation's history and the remarkable but flawed man who ushered the nation through it."
Booklist
"Condensed with well-dramatized brevity, Remini's account will captivate the American-history audience."
Shelf Awareness
"Robert Remini paints a vivid portrait of Henry Clay in this tightly focused analysis of a critical moment in United States history…. A finely detailed examination of the art of compromise in politics as well as a splendid testimonial to Henry Clay's inestimable value in our nation's history."


Washington Times
"[Remini] narrows his focus to Clay's last great struggle, the Compromise of 1850, and argues quite persuasively that good politics demands great men."
Roll Call
"Remini, the House historian, provides an engaging narrative brimming with dialogue from historic figures such as Vice President John C. Calhoun and Sen. Stephen A Douglas and detailed descriptions of action on the Senate and House floors…. For fans of legislative wrangling, the book is a joy to read as it follows the multiple deaths and rebirths of Clay's compromise until finally reaching success, albeit in modified terms. It is a story that will be familiar to observers of today's Congress…. Ultimately, Remini's main purpose is not to dwell on the policy details but to explore how and why some Congressmen were willing to engage in the give-and-take of lawmaking and to lament the lost art of compromise."
Louisville Courier-Journal
"Remini's short and accessible book…explores an aging and ailing Clay's final effort – the Compromise of 1850…. As our country confronts polarizing issues and our politicians reject compromise, we could use Henry Clay."
Advertisement