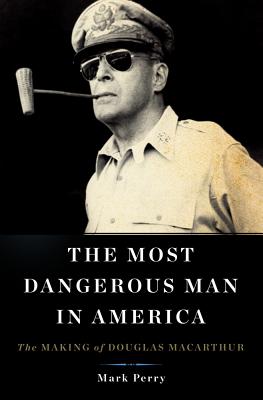 The Most Dangerous Man in America (Hardcover)
The Making of Douglas MacArthur
Basic Books, 9780465013289, 416pp.
Publication Date: April 1, 2014
Other Editions of This Title:
Paperback (4/28/2015)
* Individual store prices may vary.
Description
At times, even his admirers seemed unsure of what to do with General Douglas MacArthur. Imperious, headstrong, and vain, MacArthur matched an undeniable military genius with a massive ego and a rebellious streak that often seemed to destine him for the dustbin of history. Yet despite his flaws, MacArthur is remembered as a brilliant commander whose combined-arms operation in the Pacific—the first in the history of warfare—secured America's triumph in World War II and changed the course of history.

In The Most Dangerous Man in America, celebrated historian Mark Perry examines how this paradox of a man overcame personal and professional challenges to lead his countrymen in their darkest hour. As Perry shows, Franklin Roosevelt and a handful of MacArthur's subordinates made this feat possible, taming MacArthur, making him useful, and finally making him victorious. A gripping, authoritative biography of the Pacific Theater's most celebrated and misunderstood commander, The Most Dangerous Man in America reveals the secrets of Douglas MacArthur's success—and the incredible efforts of the men who made it possible.

About the Author
Mark Perry is a military, intelligence, and foreign affairs analyst and writer. His articles have appeared in The Nation, The Washington Post, Foreign Policy, and The Los Angeles Times, among other outlets, and he is a frequent guest commentator and expert on Al Jazeera television network. He is the author of eight books, including Grant and Twain, Partners in Command, and Talking to Terrorists. Perry has served as editor and Washington bureau chief for a number of publications, including Washington D.C.'s City Paper and The Veteran, the largest circulation newspaper for veterans in the nation.
Praise For The Most Dangerous Man in America: The Making of Douglas MacArthur…
Brigadier General Mark Kimmitt, former Assistant Secretary of State for Political-Military Affairs
"A pleasure to read, Mark Perry's
The Most Dangerous Man in America
is a revealing and topical biography on arguably the greatest general in American history. It shows MacArthur at the pinnacle of greatness and the nadir of vanity—usually simultaneously—during the most critical periods of the Japanese campaign in WWII. Replete with new information, insights and perspective on this most enigmatic of American generals, MacArthur's legend is thoroughly but respectfully dissembled to show him, and the generation of political and military leaders that won WWII, as petty, vindictive but brilliant military strategists and ruthless political infighters. Mark Perry's well-balanced book stands far above the crowded collection of official military histories, biographies, hagiographies and analyses of General Douglas MacArthur and should be mandatory reading for those that aspire to command—that most humbling of military experiences—at any level."
Boston Globe Best Books of 2014

New York Times Book Review
"[A] well-written, insightful portrait of a commander whose occasional military genius vied with an overweening ego that alienated his superiors in Washington and led to his eventual downfall."

Wall Street Journal
"Mark Perry's enjoyable The Most Dangerous Man in America amply captures the general's 'proud and egotistical' streak."

Washington Post
"[An] engrossing book on the great, though greatly flawed, general… fans of military history and general readers will have much to enjoy and to ponder: The author offers a vivid and convincing recounting of MacArthur's tremendous skill as a pioneer of air-land-sea battle in the Pacific, along with ample evidence that 'proud and egotistical' MacArthur 'was his own worst enemy.'"

Boston Globe
"[A] dazzling biography…[a] deft portrayal centered mainly on MacArthur's World War II years."

Foreign Affairs
"Without ever denying MacArthur's flaws and mistakes, Perry revives the general's reputation by carefully and positively appraising his role in some of the war's key moments."

Shelf Awareness for Readers
"A compelling, succinct account of a deeply flawed but brilliant leader, a man seemingly created for the circumstances through which he lived… With fluid prose and fascinating personalities, The Most Dangerous Man in America should appeal to military history and biography buffs alike."

San Antonio Express-News
"The Most Dangerous Man in America is Perry's tour de force as a biographer. With scholarly precision and a desire to present MacArthur as a man, minus the myth and the legend, he gives us a detailed look into our nation's top soldier in the east during World War II. Despite MacArthur's flaws, and they don't go unrecognized here, his brilliance when it came time to enact the first combined-arms operation in the Pacific is captivatingly told for all to understand."

Roanoke Times
"Perry's skill as a storyteller brings the reader into the action of MacArthur and the officers with whom he interacted, and those who were relegated to talking with MacArthur's adjutant, Richard Sutherland…[The Most Dangerous Man in America] is certain to have an impact on those who read it, and they will come away with a better understanding of the challenges of the Pacific campaign."

Dallas Morning News
"Perry sets out to demonstrate how FDR 'tamed and used' the general as the principal tool that would defeat the Japanese. Perry accomplishes this efficiently through an entertaining narrative that will satisfy MacArthur's defenders…"

Christian Science Monitor
"A perceptive, authoritative biography of the legendary general."

Weekly Standard
"Perry has written an engaging and fresh story about Douglas MacArthur that also sheds light on some of the lesser-known figures who supported him…The Most Dangerous Man in America will introduce Douglas MacArthur to a new audience and compel readers already familiar with him to consider this dynamic personality in a different light."

Washington Independent Review of Books
"A riveting and accessible biography of General Douglas MacArthur...simultaneously providing insights into his behavior and filling in needed and appropriate biographical nuggets in order to illuminate his bigger than life persona.... A noble portrait of an often misunderstood and complex 20th-century American.... Without diminishing the humanity of the book's central protagonist, Perry captures the conundrum of being a great man and presents a story that is full of its own kind of romance and adventure."

Booklist
"An excellent…limited examination of MacArthur's life in the critical years preceding and including WWII....informative and easily digestible."

Kirkus
"A study of quiet authority… A majestic overview with an engaging sense of the nuance of character."

Library Journal
"A gripping read, this book will be valuable to the novice and specialist alike."

Publishers Weekly
"[Perry] provocatively reinterprets the volatile relationship between F.D.R. and Gen. Douglas MacArthur."

Lewis Sorley, author of A Better War: The Unexamined Victories and Final Tragedy of America's Last Years in Vietnam
"Second only to his monumental self-regard was Douglas MacArthur's ability to polarize those who encountered him. Thus Mark Perry's achievement in this even-handed and insightful assessment is all the more remarkable. Concentrating on the events of World War II, he reveals in telling detail the strengths and weaknesses of this most controversial military figure."

ARMY Magazine
"In The Most Dangerous Man in America, Perry has made a monumental contribution to our understanding of two extraordinary leaders…who shaped a strategy for the defeat of Japan."

American History Magazine
"Provocative and stimulating."

Buffalo News
"Perry undertakes a thorough re-examination of MacArthur's role in World War II, with the goal of bursting the myth promoted by Roosevelt's inner circle that this dangerous, uncontainable commander, and possible Republican foe, deserves the judgment accorded him by modern historians…In making his case, Perry dazzles in his telling of the Pacific narrative through the eyes of his general…That is Perry's story and he tells it superbly: The political infighting, the inter-service rivalry, the president who favored the Navy, all overlaid on the internal bickering within MacArthur's talented and high-powered staff."

Military Heritage
"Easy to follow prose and insightful judgments of the decisions not only of MacArthur, but his opponents and fellow Allies."

History Net
"Well written and researched, The Most Dangerous Man in America is bound to foment renewed debate."

David Crist, Senior Historian, Joint Chiefs of Staff
"The book is extremely well-written and the story simply enthralling. It pulls you in from the first page. Mark Perry has written balanced, accurate book on one of the most important men in American military history. If there is one biography to read about Douglas MacArthur, this is it."

John Prados, Author of Islands of Destiny: The Solomons Campaign and the Eclipse of the Rising Sun
"Mark Perry intrigues with his inquiry into Douglas MacArthur, one of the most fascinating, frustrating characters in modern U.S. history. In The Most Dangerous Man in America, Perry not only illuminates General MacArthur's actions and motives in the Depression-era U.S. Army and World War II, he shows MacArthur's human side, sheds new light on the relationship between him and President Franklin D. Roosevelt, reframes FDR's wartime leadership, and gives deserved attention to such comrades as Robert L. Eichelberger. Don't miss this fresh vision of the general who returned to the Philippines."
or
Not Currently Available for Direct Purchase