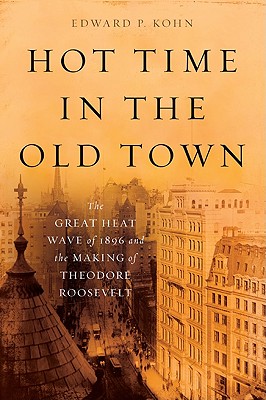 Hot Time in the Old Town: The Great Heat Wave of 1896 and the Making of Theodore Roosevelt (Hardcover)
The Great Heat Wave of 1896 and the Making of Theodore Roosevelt
Basic Books, 9780465013364, 304pp.
Publication Date: August 1, 2010
* Individual store prices may vary.
or
Not Currently Available for Direct Purchase
Description
The untold story of the catastrophic heat wave that brought Gilded Age New York to its knees—and kick-started Theodore Roosevelt's political career
About the Author
Edward P. Kohn is assistant professor of American History and Chair of the American Culture and Literature Department at Bilkent University. His previous works include This Kindred People. He lives in Ankara, Turkey.
Praise For Hot Time in the Old Town: The Great Heat Wave of 1896 and the Making of Theodore Roosevelt…
Aida D. Donald, author of Lion in the White House: A Life of Theodore Roosevelt
"Of the writing of books about Theodore Roosevelt there seems to be no end. But Edward P. Kohn's book is one that does not recycle old facts in new form. Here is a window on the world of Roosevelt that is entirely new. His activities during a fierce heat wave in New York City in 1896 that killed hundreds of people and horses is depicted in chilling episodes. City government was slow to act, but department heads like Roosevelt, who was police commissioner, took initiatives and showed the kind of leadership that led to future fame. With a wide lens Kohn scans this horrific happening during a critical campaign for president. His portraits of Roosevelt and his contemporaries are skillful and memorable."

Edwin G. Burrows, co-author of the Pulitzer Prize-winning Gotham: A History of New York City to 1898
"Hot Time in the Old Town is an enlightening account of the brutal 1896 scorcher that pushed the heat index in New York City above 120 for over a week, killing at least 1,300 people and driving countless others to bizarre acts of madness and despair. Along the way, Kohn makes a strong case that the most prominent casualty may well have been the presidential campaign of William Jennings Bryan, whose disastrous visit to the city during the height of the crisis helped win the White House for William McKinley. That same heat wave, Kohn reveals, also did wonders for the political career of the city's dynamic young police commissioner, Teddy Roosevelt. History at its best."

Kathleen Dalton, author of Theodore Roosevelt: A Strenuous Life
"Kohn's well-written and dramatic story of New York's 1896 killer heat wave exposes vast human suffering and city government's bumbling response, but it also gives us a fresh snapshot look at Police Commissioner Theodore Roosevelt and presidential candidate William Jennings Bryan responding to the moment of crisis during hot times. An entertaining slice of New York history!"

Kirkus Reviews(UK)
"In this solid history, Kohn makes good use of vivid details…. [He] paints an impressively multifaceted portrait of Gilded Age New York… the sections that deal directly with the plight of the working poor are riveting. Vivid history of a forgotten urban crisis."  Wall Street Journal"[A]n engrossing account of this forgotten episode…. Mr. Kohn does a wonderful job of explaining how a heat wave could produce a calamity for a city and a personal disaster for a presidential candidate…. [A] hell of a story." Roanoke Times"Edward Kohn's use of detail in telling this story will make you sweat and gasp for air. You will feel the desperation of the people of New York as the stale air and sweltering temperatures visit misery on America's largest city.... Kohn has merged good story-telling with American political history. Hot Time in the Old Town is an enlightening tale."  Library Journal"Although the 1896 heat wave remains a minor footnote in New York history, Kohn creates a solid narrative that makes for absorbing reading. He also points out that notwithstanding huge progress made to improve responses to heat crises, these occurrences continue to claim many lives to this day. Students of historical meteorology and shows like When Weather Changed History will enjoy this, as will anyone interested in off-beat American history." Publishers Weekly"[Kohn] succeeds in bringing this little-known tragedy to light." Bilkent News (University of Bilkent, Ankara, Turkey)
"[A] fascinating and well-researched tale about the impact of the needs of the local and disfranchised poor on national, even world, events. Kohn reminds historians that sometimes the best part of studying the past is listening for the narrative and resurrecting the stories of the obscure, the powerless, and the forgotten."
The Front Page (blog of the American Meteorological Society)"Reading Kohn's book is a good way to reflect on the value of keeping good weather impacts statistics." Roll Call    "Kohn raises two novel arguments: that the heat wave was responsible for destroying William Jennings Bryan's political career, and that it was responsible for bolstering that of Theodore Roosevelt's."                                                                                         Florida Weekly"It isn't easy to blow the dust off of more than a century of history and make it relevant but historian Edward P. Kohn has managed to do just that…. [He] recreates this event with such graphic detail the people and their story seem to literally leap from the printed page…. It is this humanization and Kohn's first rate research that give this highly readable book its literary legs." St. Louis Post-Dispatch"[T]his slender volume makes for interesting reading – especially if you read it in the summer heat." Floral Park Dispatch"[T]he scorcher of 1896 had seemingly vanished into the mist of history until Edward Kohn, in his recently published Hot Time in the Old Town, rescues the events of those brutal mid-summer days from oblivion.… [A] well-told tale." Wall Street Journal"[A]n engrossing account of this forgotten episode…. Mr. Kohn does a wonderful job of explaining how a heat wave could produce a calamity for a city and a personal disaster for a presidential candidate…. [A] hell of a story." Choice "Kohn examines an often-overlooked natural disaster, New York City's deadly heat wave of August 1896…. Using the heat wave as a backdrop, Kohn provides excellent insight into Theodore Roosevelt's time as NYC's police commissioner and the beginning of his Progressive ideas."
Coverage from NPR
Advertisement