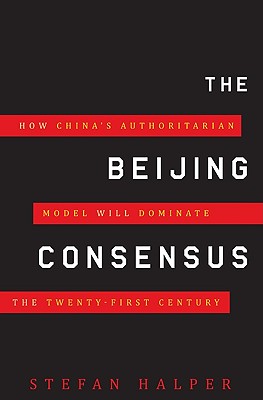 The Beijing Consensus
How China's Authoritarian Model Will Dominate the Twenty-First Century
Hardcover

* Individual store prices may vary.
Other Editions of This Title:
Paperback (2/7/2012)
Paperback (10/1/2010)
Description
An expert in international relations explores the latest Chinese export: an appealing but illiberal new world order where the West is left behind
Praise For The Beijing Consensus: How China's Authoritarian Model Will Dominate the Twenty-First Century…
Henry Kissinger, former Secretary of State
"Stefan Halper provides a thoughtful and well-researched book that addresses the impact of China's market-authoritarian model on global affairs in the century before us. Halper points to a 'battle of ideas' in which China challenges Western concepts of governance while appealing to the developing world with a model for growth and stability."

James R. Schlesinger, former Secretary of Defense and Energy
"In this deeply researched and well-written book, the challenge posed by China, as Dr. Halper sees it, is not fundamentally military, but political and economic. China's example of rapid economic growth and authoritarian rule may well have greater appeal in the developing world with the result that developing nations increasingly reject democratic values, transparency and rule of law in favor of a dynamic market-authoritarian model that delivers growth but limits many freedoms we cherish. Among the results are trends that leave this country increasingly isolated."

Publisher's Weekly
"Halper cogently rejects the 'conventional wisdom' that suggests America's relationship with China is 'on track' in this lucid, probing text...[Halper] concludes this sobering, excellently argued book with concrete policy recommendations..."

John F. Lehman, former Secretary of the Navy
"Twenty years of mismanaged diplomacy and deterrence enabled an avoidable world war in the Pacific. If Stef Halper had been writing then it might have been different. Today a similar pattern of inadequate strategy carries the seeds of another Pacific war involving America and China, but Halper has provided a timely book to help avoid history repeating. His concepts and logic, delivered in lucid, even elegant prose are overwhelmingly persuasive, setting a positive new framework for debate in Washington."

Minxin Pei, Senior Scholar, The Carnegie Endowment, Professor of Political Science, Claremont College
"Stefan Halper has written a thoughtful and provocative book that challenges us to rethink the conventional wisdom about the impact of China's ascendance on the world order. It should be required reading the policy community."

James R. Lilley, former US Ambassador to China and South Korea and Chief of the US Mission in Taiwan
"Stefan Halper has analyzed and given historical perspective to probably the greatest issue we face in the 21st Century, the rise of China and the role of the United States. China and the US must cooperate, cautiously, for the sake of mankind but this must be accompanied by a clear-eyed view of a military/strategic balance. This is a wide ranging book, challenging and well-written and researched, and should be read by people who have an interest in the outcome of the 21st Century."

Ted Carpenter, Executive Vice President for Defense and Foreign Policy, The CATO Institute
"Stefan Halper provides a thoughtful, refreshing analysis of the strategic and economic enigma that is China, carefully avoiding the fallacy of seeing China as either a mortal military and commercial threat to the United States or as a benign strategic partner for this country. Halper demolishes an assortment of myths and may well have written the most important book to have appeared in the past decade on China and U.S. policy toward that emerging great power."

James B. L. Mayall, University of Cambridge, Emeritus Professor of International Relations and Departmental Chairman
"In this deeply researched and well-written book Stefan Halper challenges Washington's conventional wisdom, arguing powerfully that the strategic battle will not be primarily over territory or even markets. It will be over values, a contest between the liberal values of the Enlightenment and the Chinese model of market authoritarianism. This book does not pretend to suggest that there is an easy answer, much more valuably it lays out the issues clearly and sets the stage for an informed and rational debate."

Sir Richard Dearlove, former head of the British Secret Intelligence Service (MI6)
"The rise of modern China has generated megabytes of commentary, most of it rather predictable in content and ideas. Here at last is a fresh, original book of great insight that gives an alternative and attention-grabbing view of China's steady advance towards super-power status. Stefan Halper's book decodes the wider and worrying significance of such a striking historical juxtaposition. " Asia Times
"China's rising influence has real-world consequences, and one of the many virtues of The Beijing Consensus is the way that it describes exactly what they are…Halper is undeniably a sure-footed guide to modern China and what its rise means to the world. In brisk, readable prose – enlivened by pop culture references to Bruce Springsteen, Tom Clancy and Star Trek – he sees through China's confounding contradictions, the way its imposing strength is balanced by surprising fragility."
Washington Times
"This brief but richly detailed and annotated volume is an excellent and helpful handbook for the foreign-policy professional as well as the serious student of Sinology. It opens important new channels for fresh thought and our peculiar and sometimes difficult relationship with the most populous and rapidly developing nation on Earth."
International Herald Tribune
"[The Beijing Consensus] could well shift many of the terms of the ongoing debate about the China challenge, as it's often called, and what to do about it."
American Spectator online
"Halper has written a worthwhile and stimulating book. He well diagnoses the problems inherent to the complicated U.S.-China relationship."
Dan Blumenthal, American Spectator
"Halper is right to criticize the triumphalist argument that China would inevitably become more democtratic and aligned with the West once it entered the international economy. It has done neither. He is correct that China is not shy about buying off dictators to obtain natural resources and political support—efforts that have undercut American policies. And, he is certainly right that America has to do a better job of standing up for the benefits of its system and values in the developing world."
Post & Courier (Charleston, SC)
"Despite Halper's portrayal of 'the problem' as one of insurmountable complexity, he insists there is reason 'to be optimistic.' And it would seem his optimism warrants a recommendation of his book for anyone who is interested in matters of contemporary geopolitical gamesmanship."
Basic Books, 9780465013616, 312pp.
Publication Date: April 1, 2010
About the Author
Stefan Halper is a Senior Fellow in the Department of Politics and International Studies at the University of Cambridge, and a Distinguished Fellow at the Nixon Center in Washington, D.C. Halper served in the White House and Department of State during the Nixon, Ford, and Reagan administrations. He divides his time between Great Falls, Virginia, and Cambridge, UK.
or
Not Currently Available for Direct Purchase