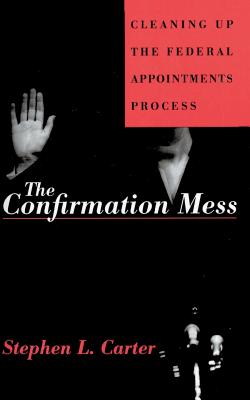 The Confirmation Mess (Paperback)
Cleaning Up The Federal Appointments Process
Basic Books, 9780465013654, 272pp.
Publication Date: May 6, 1995
* Individual store prices may vary.
Description
Stephen L. Carter tells what's wrong with our confirmation process, explains how it got that way, and suggests what we can do to fix it. Using the most recent confirmation battles as examples, Carter argues that our confirmation process will continue to be bloody until we develop a more balanced attitude toward public service and the Supreme Court by coming to recognize that human beings have flaws, commit sins, and can be redeemed.
About the Author
Stephen L. Carter is the William Nelson Cromwell Professor of Law at Yale University, and is the author of several acclaimed books, including Culture of Disbelief, Reflections of an Affirmative Action Baby, Integrity, and Civility. He is a leading public intellectual who appears regularly on national television and radio, and his writings have appeared in major national magazines and newspapers. He lives in New Haven, Connecticut.