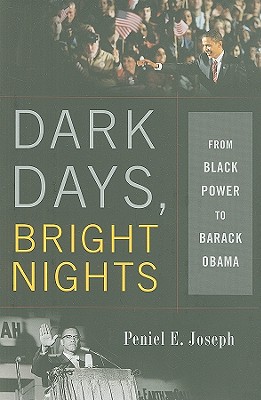 Dark Days, Bright Nights (Hardcover)
From Black Power to Barack Obama
Basic Civitas Books, 9780465013661, 277pp.
Publication Date: January 1, 2010
* Individual store prices may vary.
Description
The Civil Rights Movement is now remembered as a long-lost era, which came to an end along with the idealism of the 1960s. In
Dark Days, Bright Nights
, acclaimed scholar Peniel E. Joseph puts this pat assessment to the test, showing the 60s--particularly the tumultuous period after the passage of the 1965 Voting Rights Act--to be the catalyst of a movement that culminated in the inauguration of Barack Obama.
Joseph argues that the 1965 Voting Rights Act burst a dam holding back radical democratic impulses. This political explosion initially took the form of the Black Power Movement, conventionally adjudged a failure. Joseph resurrects the movement to elucidate its unfairly forgotten achievements.
Told through the lives of activists, intellectuals, and artists, including Malcolm X, Huey P. Newton, Amiri Baraka, Tupac Shakur, and Barack Obama, Dark Days, Bright Nights will make coherent a fraught half-century of struggle, reassessing its impact on American democracy and the larger world.
About the Author
Peniel E. Joseph is professor of history at Tufts University and the author of Waiting 'Til the Midnight Hour. He is the recipient of fellowships from the Woodrow Wilson International Center for Scholars and the Ford Foundation, and his work has appeared in Souls, New Formations, and The Black Scholar. He lives in Somerville, Massachusetts.
Praise For Dark Days, Bright Nights: From Black Power to Barack Obama…
John Stauffer, Chair, History of American Civilization at Harvard and the author of Giants: The Parallel Lives of Frederick Douglass and Abraham Lincoln and The Black Hearts of Men
"Peniel Joseph, the preeminent scholar of African American culture in the postwar period, shows us in Dark Days, Bright Nights how and why Black Power transformed American culture and made possible the election of Barack Obama. Brilliantly conceived and elegantly written, it highlights the possibilities and limits of remaking society and achieving democracy. It thus is a vital, necessary book, one that every American should read."

Manning Marable, M. Moran Weston and Black Alumni Council Professor of African-American Studies at Columbia University
"Peniel Joseph's Dark Days, Bright Nights explores the contours of black leadership and politics over the past half century as it examines the strengths and contradictions of black activism and black power. Joseph's insights and deep knowledge of modern Black Nationalism provide powerful new perspectives on recent African-American History. Dark Days, Bright Nights represents contemporary history at its best."

Henry Louis Gates, Jr., Alphonse Fletcher University Professor at Harvard University
"Scholarship on the Civil Rights Movement often takes a holistic approach to the era, submerging individual moments in the successes or failures of the movement as a whole. But Peniel Joseph wisely isolates the Voting Rights Act of 1965 as a crucial moment for both the movement and American history—not as the crowning achievement of the movement to that point but as the starting point for the (previously unacknowledged) inroads made by black radicalism, which ultimately led to the historic Presidential election of 2008. Joseph tells the story of the moment and of the individuals who shaped it and were shaped by it with rare insight and vitality. This book adds luster to his stature as a rising star in the field of African American history."

Publisher's Weekly
"A much needed discussion of black power's successes and its contributions to the civil rights movement... [Joseph] makes a persuasive and stimulating case for Obama's election as a vindication for black power, and his book is a vivid and welcome recasting of the history—and the myriad interpretations—of the movement."
Coverage from NPR
or
Not Currently Available for Direct Purchase