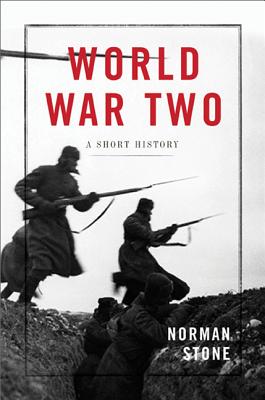 World War Two (Hardcover)
A Short History
Basic Books, 9780465013722, 272pp.
Publication Date: January 8, 2013
* Individual store prices may vary.
Description
After the unprecedented destruction of the Great War, the world longed for a lasting peace. The victors, however, valued vengeance even more than stability and demanded a massive indemnity from Germany in order to keep it from rearming. The results, as eminent historian Norman Stone describes in this authoritative history, were disastrous.

In World War Two, Stone provides a remarkably concise account of the deadliest war of human history, showing how the conflict roared to life from the ashes of World War One. Adolf Hitler rode a tide of popular desperation and resentment to power in Germany, promptly making good on his promise to return the nation to its former economic and military strength. He bullied Europe into giving him his way, and in so doing backed the victors of the Great War into a corner. Following the invasion of Poland in 1939, Britain and France declared war on Germany—a decision that, Stone argues, was utterly irrational. Yet Hitler had driven the world mad, and the rekindling of European hostilities soon grew to a conflagration that spread across the globe, fanned by political and racial ideologies more poisonous—and weaponry more destructive—than the world had ever seen. With commanding expertise, Stone leads readers through the escalation, climax, and mournful denouement of this sprawling conflict.

World War Two is an invaluable contribution to our understanding of the twentieth century and its defining struggle.


About the Author
Norman Stone has taught at the universities of Cambridge, Oxford and Bilkent, where he is now Director of the Turkish-Russian Center. Stone is the author of World War One, The Eastern Front, 1914-1917 (winner of the Wolfson Prize), and Europe Transformed.
Praise For World War Two: A Short History…
Daily Mail (London), Book of the Week
"Of all the books about World War II, this must be one of the most unexpected. Norman Stone, a master historian, has elected to tell the whole story in just 200 pages. Reading it is like being taken up in an all-seeing satellite to observe massive movements on the ground, or the woods without any trees to get in the way. It is illuminating, concentrating on what mattered most psychologically, ignoring confusing detail."
Richard J. Evans, New Statesman
"[Norman Stone] has a real gift for saying a lot in a small space and many sections of this book are masterpieces of compression."
The Telegraph
(London)
"[Stone's] history is a gripping introduction to one of the most tragic conflicts ever seen."
Sunday Express
(London)
"Love or loathe him, Stone can pull off tricks beyond the reach of most of his detractors. Take his World War II: A Short History; do we really need yet another mini survey of the 1939-45 conflict? Of course not. Except if it is written by Norman Stone. Pithy, opinionated, preposterously readable, an afternoon on the sofa should see you through from cover to cover and Stone's book fires off illuminating facts as a Catherine wheel showers sparks.... [An] excellent, engaged and engaging primer, which contains everything and misses nothing in its brief span."
Kirkus Reviews
"[An] entertaining history…. Novices will receive a painless introduction, but educated readers should not pass up the highly opinionated prologue and epilogue and the author's trademark acerbic commentary throughout…. Readers of all stripes…will find plenty to ponder."

Ian Thomson, The Spectator
"Written in a precise, carefully modulated prose, World War Two is illuminating as well as often amusing.... This absorbing micro-history serves as a tonic to outsize histories, and is pleasingly digressive as well as wonderfully well written. Professor Stone is a one-off and we are fortunate to have him."

Andrew Roberts, Standpoint
"Norman Stone has achieved the impossible; he has somehow written a comprehensive history of the Second World War in just under 200 pages, summarising the entire conflict while leaving out nothing of importance and bringing his lifetime of study of the subject to bear in a witty, incisive and immensely readable way…. Not everyone will agree with all the conclusions...but none will doubt that Norman Stone has proved yet again that he is one of the most original, witty and powerful British historians writing today."

Mail on Sunday (London)
"Stone's book is an entertaining read, full of quirky detail.... For the well-informed, this will be a book to enjoy, then argue over."

Daily Telegraph (London)
"Stone always avoids the obvious, and his talent for seeing unexpected routes of cause and effect define his brilliant histories, of which his latest, World War Two: A Short History, is the fifth. Such lines of inquiry not only revivify the subjects they cover, they throw up all sorts of interesting nuggets.... Stone tells the story of the war succinctly and fluently, looking at areas often ignored in English histories."

San Antonio Express-News
"An amazingly concise but seam-busting account of a war that defined America's greatest generation, [World War Two] will fascinate the novice historian and satisfy the WWII scholar. Stone...solidifies his reputation as a British academic, author and celebrated chronicler of military history with this succinct work.... Stone masterfully dissects his subject and puts it back together in a concise and straightforward approach that will give readers a firm foundation."

Roanoke Times
"Only a person with extensive knowledge can tell such a complex story in so few pages and still have it be comprehensive. This is an ideal book for someone who seeks to understand the nature of World War II. It is also appropriate reading for someone who has studied the war in fragments...and wants to be reminded of the grand scale of this massive conflagration that defined the 20th century."