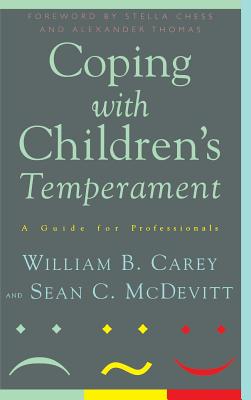 Coping With Children's Temperament
A Guide For Professionals
Hardcover

* Individual store prices may vary.
Description
Why does one child and not another in a normal family develop a behavior problem? If a child is sensitive and likely to complain, how does that affect the quality and quantity of the medical care provided? What happens to the neurologically intact child who has trouble paying attention in school?Children's temperaments make a substantial contribution to their environments and their interactions with them. Certain of these largely inborn behavioral style differences, which are not abnormal in themselves, may lead to clinical problems by predisposing children to abrasive, incompatible relationships with caregivers.In this book, William B. Carey and Sean C. McDevitt present a clear, concise summary of the recent clinical research on temperament, in particular from the last ten years, coupled with practical suggestions on how to use this information in a variety of clinical and educational settings. These management strategies were assembled from their own extensive clinical experience and that of others. They take the professional—psychologist, physician, nurse, teacher, day care worker, and social worker—through all the stages of a child's life to show how the effects of temperament play out in infancy, the preschool years, middle childhood, and adolescence.Richly illustrated with detailed case examples, this outstanding book brings theory and practice to life and shows how all who work with children can improve their care by understanding these important differences.
Basic Books, 9780465014323, 256pp.
Publication Date: August 25, 1995
About the Author
William B. Carey, M.D., is clinical professor of pediatrics at the University of Pennsylvania School of Medicine and director of behavioral pediatrics in the Division of General Pediatrics at the Children's Hospital of Philadelphia.

Sean C. McDevitt, Ph.D.,is a child and adolescent psychologist in Phoenix and Scottsdale, AZ, with eighteen years of practical experience working with children and families in inpatient, residential, and outpatient settings.