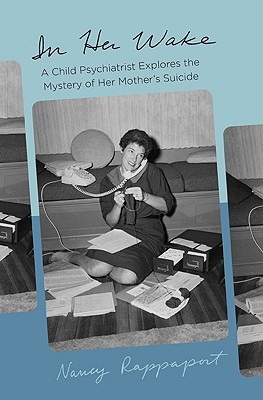 In Her Wake (Hardcover)
A Child Psychiatrist Explores the Mystery of Her Mother's Suicide
Basic Books, 9780465014507, 320pp.
Publication Date: September 1, 2009
* Individual store prices may vary.
or
Not Currently Available for Direct Purchase
Description
A psychiatrist's haunting memoir of her mother's suicide illuminates our understanding of family tragedy.
About the Author
Nancy Rappaport is assistant professor of psychiatry at Harvard Medical School. She is attending child and adolescent psychiatry consultant to the Cambridge Public Schools and director of school-based programs in child psychiatry at the Cambridge Health Alliance. She lives in Cambridge, Massachusetts.
Praise For In Her Wake: A Child Psychiatrist Explores the Mystery of Her Mother's Suicide…
Publishers Weekly (starred review) 
"…a fearless memoir of loss and grief…"

"...Rappaport weaves a stunning narrative of perspective, profound sadness and unrelenting hope… She has also mapped an inspiring course for anyone to dissect family dynamics and mental illness, hoping to understand and, finally, accept."

Kay Redfield Jamison, Professor of Psychiatry, Johns Hopkins School of Medicine; author of An Unquiet Mind and Nothing Was the Same
"A powerful and eloquent book about loss and incomprehension, and a unique journey of learning and reconciliation."

Lenore Terr, M.D., author of Magical Moments of Change and Too Scared to Cry
"If you looked at the trauma of a suicide as a rock thrown into a family pool, you'd see circular ripples differently affecting each part of that little body of water….In Her Wake reads like a mystery, yet it leaves us with much, much more…an almost firsthand knowledge of the power of psychic trauma."

Pete Earley, author of Crazy 
"Extraordinary….The constant in Rappaport's prose is her steadfast refusal to sugarcoat and her fierce determination to find answers to uncomfortable questions. A well-told story that is a testament to the power of love tempered by heartache."

Marya Hornbacher, author of Wasted and Madness
"A touching and insightful story of love, loss, and healing."

Sara Lawrence-Lightfoot, Emily Hargroves Fisher Professor of Education, Harvard University; author of Balm in Gilead and The Third Chapter
"With the eyes of a probing detective, the wisdom and empathy of a clinician, and the yearning and love of a devoted daughter, Rappaport traces the roots and remnants of her mother's suicide. Blending honesty and delicacy, passion and restraint, In Her Wake is riveting and revelatory reading."

Susanna Moore, author of In the Cut and The Big Girls
"Rappaport writes of that mysterious and powerful force, the mother, and the impossibility of fully knowing the truth about her….She knows that the discovery of the past is never the end, but the beginning of thought."

Linda T. Sanford, LICSW, author of Strong at the Broken Places, co-author of Women and Self-Esteem
"Beautifully written, In Her Wake should be required reading for all of us in the helping professions."

Christopher Lukas, author of Blue Genes and Silent Grief
"Rappaport looks back at her mother's suicide in order to find a resting place for herself and her family; so they can go on, into the future, with courage. I recognize her pain, and I salute her achievement."

Michael Jellinek, Chief, Child Psychiatry Service, Massachusetts General Hospital
"In Her Wake is as engaging as a well written novel, with truths and insights that are meaningful to every family."

Alvin F. Poussaint, MD, Professor of Psychiatry at Harvard Medical School and Judge Baker Children's Center; author of Lay My Burden Down
"This inspiring book reaffirms the strength and resiliency of the human spirit."

Perri Klass, author of The Mercy Rule
"In Her Wake is a moving story of mother and daughter, and the intimate echoes of family complications across the generations; as Nancy learns more about the mother she never knew, she also tells the story of her own journey and the story of a troubled but fascinating family, and helps the reader understand the twists and turns that love and loss can take."

Carla Fine, author of No Time to Say Goodbye and Touched by Suicide
"In Her Wake speaks to all of us who have lost a loved one to suicide and offers new and healing insights to a survivor's journey. She helps us better navigate the maze that suicide leaves as its legacy and comforts us with the knowledge that we are not alone in our confusion and grief."
Advertisement