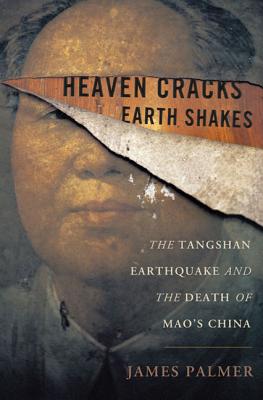 Heaven Cracks, Earth Shakes: The Tangshan Earthquake and the Death of Mao's China (Hardcover)
The Tangshan Earthquake and the Death of Mao's China
Basic Books, 9780465014781, 296pp.
Publication Date: January 3, 2012
* Individual store prices may vary.
or
Not Currently Available for Direct Purchase
Description
When an earthquake of historic magnitude leveled the industrial city of Tangshan in the summer of 1976, killing more than a half-million people, China was already gripped by widespread social unrest. As Mao lay on his deathbed, the public mourned the death of popular premier Zhou Enlai. Anger toward the powerful Communist Party officials in the Gang of Four, which had tried to suppress grieving for Zhou, was already potent; when the government failed to respond swiftly to the Tangshan disaster, popular resistance to the Cultural Revolution reached a boiling point.
In Heaven Cracks, Earth Shakes, acclaimed historian James Palmer tells the startling story of the most tumultuous year in modern Chinese history, when Mao perished, a city crumbled, and a new China was born.
About the Author
Author of the critically acclaimed The Bloody White Baron and a recipient of the Spectator's Shiva Naipaul Prize for travel writing, James Palmer speaks Russian and Mandarin fluently and has worked with Daoist and Buddhist groups in China and Mongolia on environmental issues. He lives in Beijing.
Praise For Heaven Cracks, Earth Shakes: The Tangshan Earthquake and the Death of Mao's China…
Colin Thubron
"China's year of death and resurrection was never described with more lucid understanding or to more forceful effect.  A mesmerizing book." 
Alan Paul, author of Big in China
"James Palmer understands China, and in this fascinating, gripping book, he shows how the natural disaster of an earthquake helped end the unnatural disaster of the Cultural Revolution."
 Frank Dikotter, author of Mao's Great Famine
"This is a terrific book, gripping yet humane, and essential reading for anybody wishing to understand how Mao's reign came to an end." 
Isabel Hilton, editor, chinadialogue
"James Palmer has written an incisive and gripping account of one of the most dramatic moments in recent Chinese history: political intrigue and natural disaster in the closing days of Maoism." 
Kirkus Reviews

"A compressed, fast-moving survey of the waning rule of Mao Zedong, precipitated by the horrendous Tangshan earthquake of 1976. Beijing-based author Palmer efficiently lays out the devastation wrought by 10 years of the Cultural Revolution, and how over the space of a few months the Chinese people managed to rebound and move forward…. A riveting précis of the fatal weaknesses in Mao's dictatorship."
Publishers Weekly, Starred Review

"A devastating temblor is the least of the shocks in this vivid history of a pivotal year in China's journey from communism…. Palmer gives readers a lucid, canny portrait, filled with telling details, of a society tamped down by repression, regimentation, and drab poverty, but seething with antiauthoritarian rage. His is one of the most illuminating studies of this little understood period, and of the crucible from which modern China emerged."
Frank Dikotter, The Daily Telegraph, Books of the Year 2011
"I devoured James Palmer's mesmerizing book on the end of Mao's reign in one sitting."
Booklist
"Palmer eloquently portrays an era and a regime in its death throes as a transformed, modern China begins to emerge." 
Christian Science Monitor

"The story of the 1976 earthquake, which destroyed the city of Tangshan and killed hundreds of thousands of Chinese, coincides with the tumultuous final decade of Mao's reign. British historian James Palmer's account of events not only re-creates China in the 1970s in vivid detail but also sheds light on the China of today." 
Library Journal, starred review
"Palmer gathered stories of individual earthquake victims and survivors that have unsparing fascination and weaves them together with the scientific controversies over earthquake prediction, mishandling of earthquake relief, chauvinistic refusal of foreign aid, and heroic local resilience…. Highly recommended as a dramatic and sophisticated presentation of the transition to present-day China." 
Dallas
Morning News
"This material is irresistible, and British journalist James Palmer does a good job with it…. Outside the cyclone of brutality, Palmer offers a good description of what it was like to live in Maoist China." 
Maclean's (Toronto)

"The Chinese have many sayings about heaven and earth, and the relationship between divine and mundane order. One of them is encapsulated in the title that Palmer, a perceptive British writer living in Beijing, gives his study of 1976 China, the year the bloody chaos of the Cultural Revolution finally ended…. In his epilogue, Palmer nicely captures just how far China has come over the last 35 years." 
Wall Street Journal
"Mr. Palmer takes us through these events with skillful ease, weaving history, politics and geophysics into a complete narrative."
Christian Science Monitor
"The China Palmer describes has eerie echoes of North Korea: a scary realm where entertainment – in any form – was nearly non-existent and the memory of hunger was never far away. Palmer gives texture to his story by sprinkling his account with glimpses of ordinary Chinese and their lives…. His quick, highly readable account of a pivotal moment in China's recent past makes good reading for all hoping to better understand the global giant's present and future."
 John Batchelor, Host, The John Batchelor Show
"A stunning work of journalism and history, written with a mesmerizing clarity."
The Independent (London)
"James Palmer's account is as dispassionate as it is detailed; his subject matter is so bizarre that he can let it speak for itself…. Palmer's book is a timely reminder of the supreme horror of the alternative that could so easily have been." 
Tucson Citizen
"Palmer…has written a gripping narrative of this period that showed the upheaval brought about during one year and launched China to become the country it is today. Thoroughly documented and accessible, this is political reporting that provides a better understanding of China and its people." 
The Scotsman (Edinburgh)
"For all the magnitude of that tragedy [the earthquake], the more gripping story here concerns the plotting in Zhongnanhai, the palace complexes attached to the Forbidden City, where the party elite lived." 
Winnipeg
Free Press
"In this superb account of recent Chinese history, British author James Palmer, a Beijing resident, paints a disturbing picture of the country a few years before its economic boom began in the early 1980s….
Heaven Cracks, Earth Shakes
is full of fascinating and disturbing stories about an especially dark time in Chinese history. It is well worth reading for anyone with even a passing interest in the Asian powerhouse."
The Guardian
"James Palmer's book weaves together these two narratives of natural disaster and elite political intrigue to provide a lucid account of one of the eeriest moments in modern Chinese history…. Palmer's account is written in enviably elegant prose. The narrative never flags and its judgments are humane and nuanced…. This account of the links between natural disaster and elite politics in China is a fine work of history. But its real relevance may be that it shows how much has changed in China, and yet how little, since 1976."
Financial Times
"[Palmer's] book is both a masterly recreation of the horrors of the earthquake and of the power struggles going on in Beijing as Mao Zedong lay close to death in a hospital visited frequently by anxious doctors and senior leaders…. Palmer excels at creating a three-dimensional docudrama of the earthquake…. [The book] renders beautifully these moments of tragedy."
Financial Times
"A lively account of the tumultuous events that marked a turning point in modern Chinese history."
Advertisement