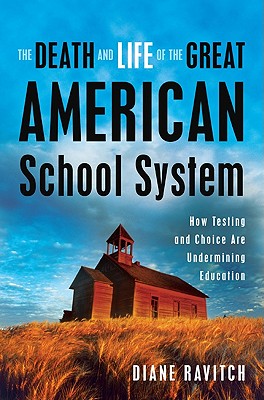 The Death and Life of the Great American School System
How Testing and Choice Are Undermining Education
Hardcover

* Individual store prices may vary.
Other Editions of This Title:
Paperback, Large Print, Large Print (5/1/2010)
Paperback (11/1/2011)
Description
Award-winning author, public intellectual, and former Assistant Secretary of Education Diane Ravitch critiques a lifetime's worth of school reforms and reveals the simple—yet difficult—truth about how we can create actual change in public schools
Praise For The Death and Life of the Great American School System: How Testing and Choice Are Undermining Education…
NYSun.com
"Public education is a tough enterprise. It won't be fixed overnight. But if we stick with a back to basics approach, saturated with the solid American democratic values that Ms. Ravitch advocates, we won't be so prone to fall for the silver bullets that never seem to find their mark."

Los Angeles Times
"The Death and Life of the Great American School System may yet inspire a lot of high-level rethinking."

Valerie Strauss, Washington Post
"Her credibility with conservatives is exactly why it would be particularly instructive for everyone--whether you have kids in school or not--to read The Death and Life of the Great American School System."

Booklist, starred
"For readers on all sides of the school-reform debate, this is a very important book."

Library Journal, starred
"[A]n important and highly readable examination of the educational system, how it fails to prepare students for life after graduation, and how we can put it back on track…Anyone interested in education should definitely read this accessible, riveting book."

Howard Gardner, Hobbs Professor of Cognition and Education, Harvard Graduate School of Education
"Diane Ravitch is the rarest of scholars—one who reports her findings and conclusions, even when they go against conventional wisdom and even when they counter her earlier, publicly espoused positions. A 'must' read for all who truly care about American education."

Linda Darling-Hammond, Charles E. Ducommon Professor of Education, Stanford University, and Founding Executive Director, National Commission for Teaching & America's Future
"Diane Ravitch is one of the most important public intellectuals of our time. In this powerful and deftly written book, she takes on the big issues of American education today, fearlessly articulating both the central importance of strong public education and the central elements for strengthening our schools. Anyone who cares about public education should read this book."

E. D. Hirsch, Jr., author of Cultural Literacy, The Schools We Need, and The Making of Americans
"No citizen can afford to ignore this brave book by our premier historian of education. Diane Ravitch shines a bright, corrective light on the exaggerated claims of school reformers on both the left and the right, and offers an utterly convincing case for abandoning quick fixes in favor of nurturing the minds and hearts of our students from the earliest years with enabling knowledge and values."

New York Times
"Ms. Ravitch…writes with enormous authority and common sense."

The Nation
"In an age when almost everybody has an opinion about schools, Ravitch's name must be somewhere near the top of the Rolodex of every serious education journalist in this country."

Wall Street Journal
"Ms. Ravitch [is] the country's soberest, most history-minded education expert."

Christian Science Monitor
"Ravitch's hopeful vision is of a national curriculum – she's had enough of fly-by-night methods and unchallenging requirements. She's impatient with education that is not personally transformative. She believes there is experience and knowledge of art, literature, history, science, and math that every public school graduate should have."

National Review
"The book intelligently and readably addresses today's education controversies, using a combination of anecdotes, case studies, and statistics…[I]t's a must-read for education policymakers at all levels of government."

Time Magazine
"Ravitch's critique is an essential one – passionate, well considered and completely logical."

Jay Matthews,WashingtonPost.com
"Ravitch is our best living historian of education. In my view she is the best ever."

Boston Globe
"The book that follows is, if not a mea culpa, perhaps something more valuable – a fiercely argued manifesto against fads in education reform and for public schools, and the teachers and students who inhabit them."

Forbes.com
"Diane Ravitch's important new book, The Death and Life of the Great American School System, will surely stir controversy, exactly as she intends. For it embodies and expresses—with her characteristic confidence, style and verve—a fundamental change in her views about where U.S. K-12 education should be heading."
Basic Books, 9780465014910, 296pp.
Publication Date: March 1, 2010
About the Author
Diane Ravitch is Research Professor of Education at New York University and a senior fellow at the Brookings Institution. From 1991 to 1993, she was Assistant Secretary of Education and Counselor to Secretary of Education Lamar Alexander in the administration of President George H.W. Bush. President Clinton appointed her to the National Assessment Governing Board, which oversees federal testing. She is the author or editor of over twenty books, including The Language Police and Left Back, and her articles have appeared in numerous newspapers and magazines. A native of Houston, Ravitch graduated from the Houston public schools, Wellesley College, and Columbia University. She lives in Brooklyn, New York.
Coverage from NPR
or
Not Currently Available for Direct Purchase