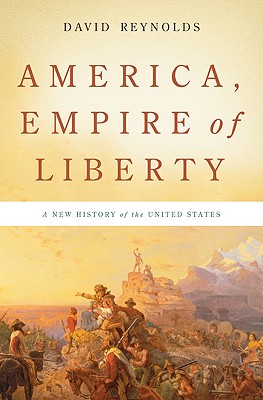 America, Empire of Liberty: A New History of the United States (Hardcover)
A New History of the United States
Basic Books, 9780465015009, 592pp.
Publication Date: October 1, 2009
* Individual store prices may vary.
or
Not Currently Available for Direct Purchase
Description
It was Thomas Jefferson who envisioned the United States as a great "empire of liberty." This paradoxical phrase may be the key to the American saga: How could the anti-empire of 1776 became the world's greatest superpower? And how did the country that offered unmatched liberty nevertheless found its prosperity on slavery and the dispossession of Native Americans?
In this new single-volume history spanning the entire course of US history—from 1776 through the election of Barack Obama—prize-winning historian David Reynolds explains how tensions between empire and liberty have often been resolved by faith—both the evangelical Protestantism that has energized American politics for centuries and the larger faith in American righteousness that has driven the country's expansion.
Written with verve and insight, Empire of Liberty brilliantly depicts America in all of its many contradictions.
About the Author
David Reynolds is a professor of international history at Cambridge University. He has held visiting positions at Harvard and at Nihon University in Tokyo and is the author of eight books, including Summits and In Command of History, which was awarded the Wolfson Prize, Britain's highest honor for the writing of history, and selected as a New York Times Notable Book of the Year. He lives in Cambridge, England.
Praise For America, Empire of Liberty: A New History of the United States…
Publishers Weekly
"In an animated overview up to the present time, Cambridge historian Reynolds (In Command of History) captures the sprawling chronicle of a nation forged from the fires of revolution, populated by immigrants and constantly evolving politically and culturally… Most readers will find Reynolds's epic overview provocative and enjoyable."

American History Magazine
"Dazzlingly sweeping yet stippled with detail, this one-volume narrative runs from 1776 to Obama's election, serving up fresh insights along the way."

Kirkus
"Concise and still-inclusive…teeming…an evenhanded distillation of America's story from a singular outside observer."

The National Interest
"Let us not mince words…this is the best one-volume history of the United States ever written…At least on the face of it, no single mind can master this mountain of material, avoid the almost-inevitable factual blunders, negotiate the long-standing scholarly controversies, and control the narrative in clear and at-times-lyrical prose. But that is precisely what Reynolds has done…[A] remarkable tour of the American past."
Advertisement