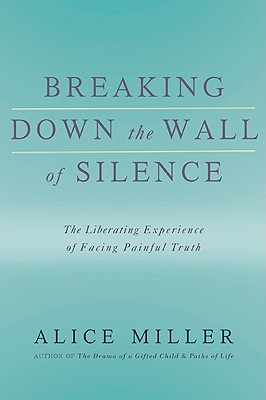 Breaking Down the Wall of Silence
The Liberating Experience of Facing Painful Truth
Paperback

* Individual store prices may vary.
Description
Miller incorporates psychohistorical analyses of Hitler, Stalin, and Ceausescu to reveal the links between the horrors of their childhoods and the horrors they inflicted on the world. She pleads for an awareness of society's role in child abuse and for recognition of the victim.
Praise For Breaking Down the Wall of Silence: The Liberating Experience of Facing Painful Truth…
Feminist Review
"This is a beautiful, fierce, necessary book written by an emotionally intelligent lioness who continues her efforts to break through the wall—one brick, one book— at a time. I highly recommend it."

Chicago Tribune
"Makes many provocative and persuasive points about the long-term effects of child abuse, the interdependence between society and child-rearing and, finally, the individual's need to confront memories, however painful."

San Francisco Chronicle
"The applicability of Miller's concepts—especially during these divisive times—is what makes her message so cogent for American audiences."

Moving Worlds
"A penetrating look at how to break the cycle of child abuse in today's world."

New Age Journal
"Miller charts valuable territory."

South Bend Tribune
"What Miller has to say is enlightening…This is not a book that can be read through once and put aside. The reader can return again and again as new truth is recognized."

Science News
"A moving argument for awareness and condemnation of child abuse."
Basic Books, 9780465015047, 186pp.
Publication Date: December 9, 2008
About the Author
Alice Miller (1923-2010) achieved worldwide recognition for her work on the causes and effects of childhood traumas. She was also the author of many books, including The Truth Will Set You Free, Banished Knowledge, Breaking Down the Wall of Silence, Thou Shalt Not Be Aware, and For Your Own Good.