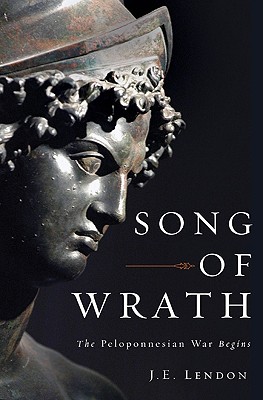 Song of Wrath (Hardcover)
The Peloponnesian War Begins
Basic Books (AZ), 9780465015061, 566pp.
Publication Date: November 2, 2010
Other Editions of This Title:
Paperback (9/4/2012)
* Individual store prices may vary.
Description
Song of Wrath tells the story of Classical Athens' victorious Ten Years' War (431- 421 BC) against grim Sparta--the first decade of the terrible Peloponnesian War that turned the Golden Age of Greece to lead. Historian J.E. Lendon presents a sweeping tale of pitched battles by land and sea, sieges, sacks, raids, and deeds of cruelty and guile--along with courageous acts of mercy, surprising charity, austere restraint, and arrogant resistance. Recounting the rise of democratic Athens to great-power status, and the resulting fury of authoritarian Sparta, Greece's traditional leader, Lendon portrays the causes and strategy of the war as a duel over national honor, a series of acts of revenge. A story of new pride challenging old, Song of Wrath is the first work of Ancient Greek history for the post-cold-war generation.
About the Author
J.E. Lendon is professor of history at the University of Virginia and author of Soldiers and Ghosts: A History of Battle in Classical Antiquity, runner-up for the Longman History Today Book of the Year Prize (2006). He lives in Charlottesville, Virginia, and Heidelberg, Germany.
Praise For Song of Wrath: The Peloponnesian War Begins…
Jeremy Black, author of War: A Short History
"Honor and shaming are key themes in Lendon's accomplished account of the first ten years of the Peloponnesian War. A major work of history, this well-written study provides important insights on the classical world that Lendon ably extents to contemporary international relations."
Edward N. Luttwak, author of The Grand Strategy of the Byzantine Empire
"J.E. Lendon must disagree with Thucydides, the greatest of historians, to tell his own dramatic story of the Ten Years' War while still relying on him for his facts. J.E. Lendon's learned enthusiasm pulls it off—and many a reader will relish this book."
Paul Cartledge, A.G. Leventis Professor of Greek Culture at Cambridge University
"J.E. Lendon's polemology of ancient Greece recognizes no bounds—or equals. Honor is a major theme of his new finely researched and inimitably styled analysis of the Ten Years' War (431-421 BCE) fought between Sparta and Athens and their respective allies, and honor is due to its never less than engaging author."\ 
Barry Strauss, author of The Spartacus War and Professor of History at Cornell University
"Ancient military history is hot these days.
Song of Wrath
is the latest book to show the value of a great story, told with skill by a talented historian and gifted writer armed with a powerful idea. It is learned, readable, and passionate."
Donald Kagan, Sterling Professor of Classics and History at Yale University and author of Thucydides: The Reinvention of History
"J.E. Lendon has written a lively, learned and fascinating account and interpretation of the coming of the Peloponnesian War and the first ten years of the fighting.  In
Song of Wrath
he explains the course of events as emerging chiefly from the values of the ancient Greeks, who cherished rank, honor and vengeance more than is recognized by modern experts in international relations and war." 
Tom Holland, author of Rubicon
"Beautifully written and unfailingly informative: scholarship has rarely conveyed such a sense of visceral excitement." 
Adrian Goldsworthy, author of Caesar and Antony and Cleopatra
"Well written and insightful. In
Song of Wrath
, J.E. Lendon discusses not simply how the Athenians and Spartans fought, but how they
thought
. This book demonstrates that a good story can also be good history." 
Dennis Showalter, Professor of History at Colorado College

"This provocative and persuasive analysis of the Peloponnesian War's first ten years shifts focus from the 'realist' aspects of the conflict's causes and conduct. Lendon stresses instead the centrality of honor, time, manifested by reciprocal acts of destruction and revenge. Humiliation, not conquest, was the primary war aim—an aim so vague it made expanding the war easier than making peace."  
Publishers Weekly

"In an exceptionally well-written account of the first 10 years of the Peloponnesian War (431–421 B.C.E.), University of Virginia historian Lendon brings the Greek city-states to life. Crediting Thucydides with the humanizing of military history, Lendon emphasizes the extraordinary importance of worth or glory to the typical Greek and casts the long, bloody conflict between Athens and Sparta in the light of the concepts of honor and hubris." 
Library Journal
"Weaving together cultural and military history, Lendon details the events of the Peloponnesian War's first decade (431-421 B.C.E.) with language that is (as was his intention) more evocative of Herodotus's epic-poetical style than the dryer intellectual approach of Thucydides." 
The Greek Star
"A fast-paced military history that places readers in the heart of battle,
Song of Wrath
is essential reading for anyone interested in one of the momentous wars in world history." 
The Hellenic Voice
"Historian J.E. Lendon presents a tale of pitched battles by land and sea, sieges, sacks, raids, and deeds of cruelty and guile – along with courageous acts of mercy, surprising charity, austere restraint, and arrogant resistance. Recounting the rise of democratic Athens to great-power status, and the resulting fury of authoritarian Sparta, Greece's traditional leader, Lendon portrays the causes and strategy of the war as a duel over national honor, a series of acts of revenge." 
TucsonCitizen.com
"This is a panoramic narrative that spans the epoch from the Persian Wars in 479 BC to the resolution of the Ten Years War in 421 BC. The diplomatic maneuvers, big-picture strategies, and even the bloodshed on the battlefield itself are all revealed to bring into focus this blood chapter in Greek history."
Choice
"Lendon's rejection of Thucydides' assumptions and 'logic' and his analysis of 'face' and 'standing' in this indecisive war on Hellenic hegemony challenge current scholarly consensus. Everyone can profit from Lendon's polemical but thoroughly documented contrarian thesis exploring Thucydides, classical diplomacy, and peculiar protocols of ancient warfare…. Highly recommended."
or
Not Currently Available for Direct Purchase