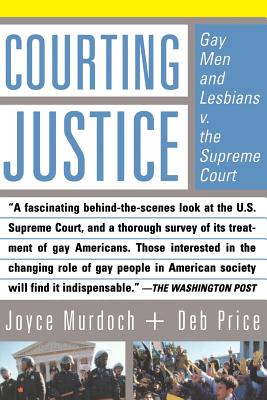 Courting Justice
Gay Men And Lesbians V. The Supreme Court
Paperback

* Individual store prices may vary.
Description
Since 1958, twenty-five men and two women have forced the Supreme Court to consider whether the Constitution's promises of equal protection apply to gay Americans. Here Joyce Murdoch and Deb Price reveal how the nation's highest court has reacted to these cases -- from the surprising 1958 victory of a tiny homosexual magazine to the 2000 defeat of a gay Eagle Scout. A triumph of investigative reporting, Courting Justice gives us an inspiring new perspective on the struggle for civil rights in America.
Basic Books, 9780465015146, 592pp.
Publication Date: May 9, 2002
About the Author
Joyce Murdoch is managing editor for politics of the National Journal. She served as an editor and reporter at the Washington Post for more than a decade.

Deb Price is the first nationally syndicated columnist on gay and lesbian issues. She has served as an editor at the Washington Post and the Washington bureau of the Detroit News. Together Price and Murdoch co-authored And Say Hi to Joyce: America's First Gay Column Comes Out. They live in Takoma Park, Maryland.