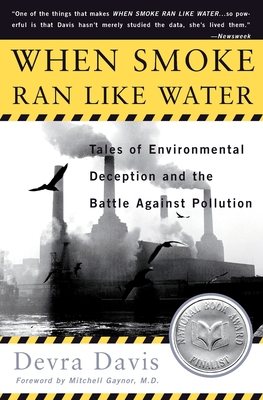 When Smoke Ran Like Water (Paperback)
Tales Of Environmental Deception And The Battle Against Pollution
Basic Books, 9780465015221, 352pp.
Publication Date: December 25, 2003
* Individual store prices may vary.
Description
In When Smoke Ran Like Water, the world-renowned epidemiologist Devra Davis confronts the public triumphs and private failures of her lifelong battle against environmental pollution. She documents the shocking toll of a public-health disaster-300,000 deaths a year in the U.S. and Europe from the effects of pollution-and asks why we remain silent. For Davis, the issue is personal: Pollution is what killed many in her family and forced some of the others, survivors of the 1948 smog emergency in Donora, Pennsylvania, to live out their lives with impaired health. She describes that episode and also makes startling revelations about how the deaths from the London smog of 1952 were falsely attributed to influenza; how the oil companies and auto manufacturers fought for decades to keep lead in gasoline, while knowing it caused brain damage; and many other battles. When Smoke Ran Like Water makes a devastating case for change.
About the Author
Devra Davis, Ph.D., M.P.H., is the Director of the Center for Environmental Oncology at the University of Pittsburgh Cancer Institute and Professor of Epidemiology, Graduate School of Public Health. She was appointed by President Clinton to the U.S. Chemical Safety and Hazard Investigation Board in 1994 and also served as Scholar in Residence at the National Academy of Science. She works in Pittsburgh, and lives in Washington, D.C. She is married to Richard D. Morgenstern and has two children and two grandchildren.
or
Not Currently Available for Direct Purchase