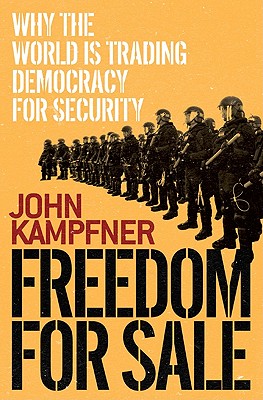 Freedom for Sale: Why the World Is Trading Democracy for Security (Hardcover)
Why the World Is Trading Democracy for Security
Basic Books (AZ), 9780465015399, 294pp.
Publication Date: January 26, 2010
* Individual store prices may vary.
or
Not Currently Available for Direct Purchase
Description
Democratic liberalism v. authoritarianism - the ideological divide that defined the twentieth century. But when the cold war ended, "the end of history" was proclaimed. Soon the fire of freedom would burn worldwide, the experts said. And where markets were freed, human rights would inevitably follow. Or not. In the last twenty years, nations including India, Russia, China and the United Arab Emirates have disproved the idea that capitalism and democracy are inextricably linked. Emerging middle classes have proven themselves all too willing to sacrifice certain democratic rights - including free speech, an open media, and free elections - in exchange for prosperity. But they are not alone. We are all doing it. Alarmingly, Western democracy has adopted some of the attributes of that authoritarianism. Combining boots on the ground reporting with incisive analysis, award-winning journalist John Kampfner describes this alarming trend - one which has only been exacerbated by the global economic meltdown - and what citizens must do to counter it.
About the Author
As Editor of the New Statesman magazine from 2005-2008, John Kampfner won a number of awards, including Current Affairs Magazine Editor of the Year. He is the author of Blair's Wars, selected as a book of the year in 2003 by the Times, Sunday Times and Observer. For nearly a decade Kampfner was correspondent for Reuters and the Daily Telegraph in Moscow and Berlin, before becoming political correspondent and commentator for the Financial Times and the BBC. He lives in London.
Praise For Freedom for Sale: Why the World Is Trading Democracy for Security…
Sunday Times (UK)
"Marx was wrong, according to John Kampfner. It is not religion that is the opium of the people, but capitalism. Give them good shopping opportunities and they will forget about liberty, equality and fraternity, and cease to care about who governs them and how…. Kampfner's book is original, persuasive and ­disquieting, and fills a gap in our understanding of the post-Cold-War world."

The Guardian (UK)
"A pungent thesis, argued with verve and an abundance of telling detail…. The fundamental questions of Freedom for Sale [are] often posed with a clarity that makes you wince."

Publishers Weekly
"Crisply written and smartly argued, this global tour of civil liberties in decline from India to Italy is an unnerving, urgent, and very persuasive wake-up call."

Roll Call
"[A] bold new analysis…. Kampfner dissects the geopolitical and social economic dynamics of Italy and seven other countries…to reveal the compromises a citizenry would endure for security and consumer independence…. [T]horoughly researched and intriguing."

The National Interest
"[Kampfner] is a successful print and television journalist who can write sharply as well as vividly…. Freedom for Sale is an easy and enjoyable read."

Providence Journal-Bulletin"Freedom for Sale elaborates an intriguing thesis through a global survey of governments and societies."
Advertisement