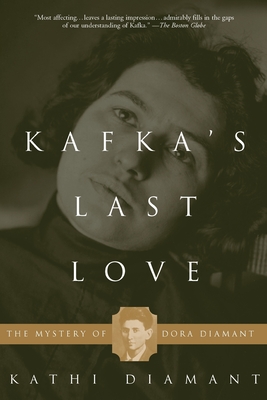 Kafka's Last Love
The Mystery Of Dora Diamant
Paperback

* Individual store prices may vary.
Description
In this gripping literary detective story, Kathi Diamant brings to light the amazing woman who captured Kafka's heart and kept his literary flame alive for decades. It was Dora Diamant, an independent spirit who fled her Polish Hasidic family to pursue her Zionist dreams, who persuaded Kafka to leave his parents and live with her in Berlin the year before he died. Although many credit (or blame) her for burning many of his papers, as he had requested, she also held onto many others-papers that the Gestapo confiscated and that have yet to be recovered. Dora's life after Kafka-from her days as a struggling agitprop actress in Berlin to her sojourn in Moscow in the 1930s, from her wartime escape to Great Britain, to her first emotional visit to the new nation of Israel-offers a prism through which we can view the cultural and political history of twentieth-century Europe. Based on original sources and interviews, including never-before-seen material from the Comintern and Gestapo archives and Dora's newly discovered notebook, diary, and letters, Kafka's Last Love illuminates the life of a literary "wife" who, like Vera Nabokov and Nora Joyce, is a remarkable woman in her own right.
Basic Books, 9780465015511, 416pp.
Publication Date: September 8, 2004
About the Author
Kathi Diamant is the Director of the Kafka Project at San Diego State University. For over fifteen years she has been immersed in the story of Dora Diamant, retracing Dora's steps in Europe, discovering neglected archives and lost papers, and conducting interviews with every known living person who knew her. She lives in San Diego, CA.