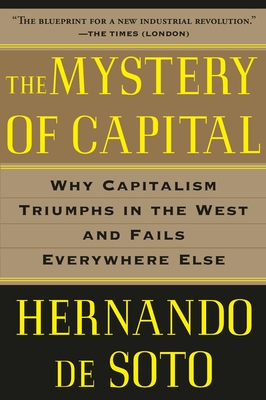 The Mystery of Capital (Paperback)
Why Capitalism Triumphs in the West and Fails Everywhere Else
Basic Books, 9780465016150, 288pp.
Publication Date: August 1, 2003
* Individual store prices may vary.
Description
"The hour of capitalism's greatest triumph," writes Hernando de Soto, "is, in the eyes of four-fifths of humanity, its hour of crisis." In The Mystery of Capital, the world-famous Peruvian economist takes up the question that, more than any other, is central to one of the most crucial problems the world faces today: Why do some countries succeed at capitalism while others fail?In strong opposition to the popular view that success is determined by cultural differences, de Soto finds that it actually has everything to do with the legal structure of property and property rights. Every developed nation in the world at one time went through the transformation from predominantly informal, extralegal ownership to a formal, unified legal property system. In the West we've forgotten that creating this system is also what allowed people everywhere to leverage property into wealth. This persuasive book will revolutionize our understanding of capital and point the way to a major transformation of the world economy.
About the Author
Hernando de Soto is President of the Institute for Liberty and Democracy (ILD), headquartered in Lima, Peru. He was named one of the five leading Latin American innovators of the century by Time magazine in its May 1999 issue on "Leaders for the New Millennium." De Soto played an integral role in the modernization of Peru's economic and political system as President Alberto Fujimori's Personal Representative and Principal Adviser. His previous book, The Other Path, was a best seller throughout Latin America and the U.S. He and ILD are currently working on the practical implementation of the measures for bringing the poor into the economic mainstream introduced in The Mystery of Capital. He lives in Lima, Peru.