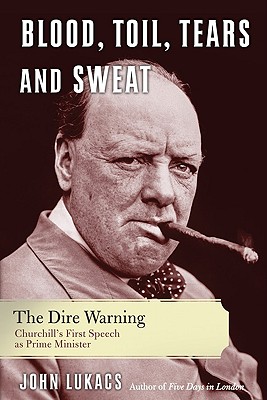 Blood, Toil, Tears, and Sweat
The Dire Warning
Paperback

* Individual store prices may vary.
Description
On May 13, 1940, Winston Churchill stood before the House of Commons to deliver his first speech as Prime Minister. Europe was in crisis: Three days earlier, Germany had invaded France and the Low Countries. Facing only feeble resistance, Hitler's armies were rapidly sweeping westward. Accused of mishandling the war, Neville Chamberlain's government collapsed, and Churchill was chosen to succeed him. Churchill had little support within the new government when he rose to address it on May 13. "I have never believed in him," wrote one MP. Another described Churchill as a "disaster." In fact, Churchill lacked confidence, both in himself and in his ability to lead his nation to victory, for he recognized far earlier than most the military genius of Adolph Hitler, and the potency of the German military. "I hope it is not too late," Churchill had confided to his bodyguard on May 10. "I am very much afraid that it is." In Blood, Toil, Tears and Sweat, the eminent historian and master storyteller John Lukacs recreates this pivotal moment in world history, and reveals Churchill as he has rarely been seen before: as a man both unsure of himself and deeply fearful of his nation's defeat. Churchill made no promises to his country in his speech, because he knew he had none to make. And yet he rallied England onward in the face of a vicious enemy. For Churchill-and Churchill alone-understood what was at stake: the fate not only of nations, but of civilization itself.
Basic Books, 9780465018208, 176pp.
Publication Date: September 29, 2009
About the Author
John Lukacs is the author of over twenty books on topics in European history, including Five Days in London: May 1940, The Hitler of History, Budapest 1900, and The Last European War. Currently professor of history emeritus as Chestnut Hill College, he has also taught at Columbia University, the University of Pennsylvania, and Princeton University. He lives in Phoenixville, Pennsylvania.