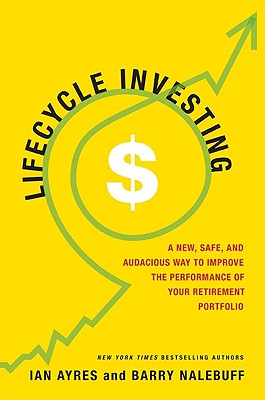 Lifecycle Investing
A New, Safe, and Audacious Way to Improve the Performance of Your Retirement Portfolio
Hardcover

* Individual store prices may vary.
Other Editions of This Title:
Digital Audiobook (5/23/2010)
MP3 CD (5/24/2010)
Compact Disc (5/24/2010)
Compact Disc (5/24/2010)
Compact Disc (5/24/2010)
MP3 CD (5/24/2010)
Description
Diversification provides a well-known way of getting something close to a free lunch: by spreading money across different kinds of investments, investors can earn the same return with lower risk (or a much higher return for the same amount of risk). This strategy, introduced nearly fifty years ago, led to such strategies as index funds.
What if we were all missing out on another free lunch that's right under our noses?
In
Lifecycle Investing
, Barry Nalebuff and Ian Ayres--two of the most innovative thinkers in business, law, and economics--have developed tools that will allow nearly any investor to diversify their portfolios over time. By using leveraging when young--a controversial idea that sparked hate mail when the authors first floated it in the pages of
Forbes
--investors of all stripes, from those just starting to plan to those getting ready to retire, can substantially reduce overall risk while improving their returns.
In
Lifecycle Investing
, readers will learn
How to figure out the level of exposure and leverage that's right for you
How the Lifecycle Investing strategy would have performed in the historical market
Why it will work even if everyone does it
When not to adopt the Lifecycle Investing strategy
Clearly written and backed by rigorous research,
Lifecycle Investing
presents a simple but radical idea that will shake up how we think about retirement investing even as it provides a healthier nest egg in a nicely feathered nest.
Praise For Lifecycle Investing: A New, Safe, and Audacious Way to Improve the Performance of Your Retirement Portfolio…
Robert Shiller, author of Irrational Exuberance
" A most provocative book. The real advantages of time diversification have never been laid out so clearly or with such a program of action."

Tim HarfordFinancial Times
"Here are the chief investment lessons of the financial crisis for today's young people: they should be buying more shares and running up debts to do so. . . . [T]here is nothing intrinsically risky about regular borrowing to get that fund off to an early start. . . . Not only does the concept make sense, it has paid off in the past. . . . Ayres and Nalebuff have looked at historical stock market data. . . . For every single cohort, the early leverage strategy beat the conventional wisdom."

Moshe A. Milevsky, Ph.D., Finance Professor, York University, and author ofAre You a Stock or a Bond?
"This bold book promotes more early equity exposure for the masses, precisely at a time when many practitioners are re-thinking the 'buy and hold stocks for the long run' mantra. Whether you are comfortable with this strategy or not, the book is a must read for anyone who claims to think about their personal finances in a rigorous and logical manner."
Basic Books, 9780465018291, 240pp.
Publication Date: May 1, 2010
About the Author
Ian Ayres is an economist, a lawyer, and the William K. Townsend Professor at Yale Law School. He has written for the New York Times, Wall Street Journal, Financial Times, Slate, and The New Republic, and his research has been featured on PrimeTime Live, Oprah, and Good Morning America. He is the author of ten books, including the bestseller Super Crunchers. A graduate of Yale and MIT, he was recently elected to the American Academy of Arts and Sciences. He lives in New Haven, Connecticut. Barry Nalebuff is the Milton Steinbach Professor of Economics and Management at Yale School of Management. He is the author of fifty scholarly articles and multiple books--including Co-opetition and The Art of Strategy--and is the cofounder of Honest Tea. A graduate of MIT and a Rhodes Scholar, he earned his doctorate at Oxford University. He lives in New Haven, Connecticut.
or
Not Currently Available for Direct Purchase