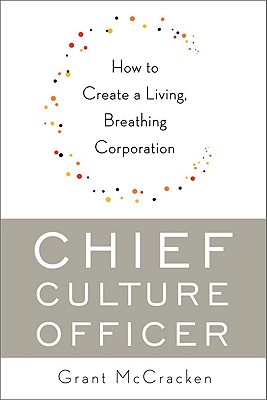 Chief Culture Officer (Hardcover)
How to Create a Living, Breathing Corporation
Basic Books, 9780465018321, 272pp.
Publication Date: November 1, 2009
* Individual store prices may vary.
Description
How can you become Steve Jobs, A.G. Lafley, or David Ogilvy? Hint: read this book.
About the Author
Grant McCracken is a Research Affiliate at C3 at MIT. He earned his PhD in anthropology at the University of Chicago and was the founding Director of the Institute of Contemporary Culture. He has taught at Cambridge University, McGill University, and the Harvard Business School. He consults with an array of companies, including Campbell Soup, Coke, L'Oreal, IBM, and the Children's Television Workshop. He has written nine academic books and his work has been covered by Oprah, the New York Times, the LA Times, Newsweek, and BusinessWeek. He lives in Connecticut.
Praise For Chief Culture Officer: How to Create a Living, Breathing Corporation…
Seth Godin, author of Tribes & Purple Cow
"The title of this book is a lie. It's not merely for companies that decide they need a Chief Culture Officer, or even just for those who aspire to that job. It's for you. Right now. If your job involves marketing, inventing, selling or simply investing in companies that make stuff, this book is a must read."

John Deighton, Brierley Professor of Business Administration, Harvard Business School
"For those who are open to its thrall, Chief Culture Officer will change the trajectory of their lives."

Faris Yakob, Executive Vice President and Chief Technology Strategist, McCann Erickson New York
"In Chief Culture Officer, Grant McCracken highlights the increasing importance of cultural understanding for brands that wish to remain relevant—and profitable—in the protean flux of the modern marketplace, as he carves out a new role for the 21st century corporation. The best marketers can hope for is to create something that resonates so strongly it becomes part of our cultural fabric. This book is an indispensable tool for achieving that goal."

Tyler Cowen, author of Create Your Own Economy
"I have deep admiration and respect for Grant McCracken, a nimble thinker who combines a mastery of marketing, culture, anthropology, and modern business practice. Chief Culture Officer has many lessons for anyone interested in understanding how to run a successful business in the early 21st century. It will prove one of the most stimulating books of the year."

Philip Kotler, author of Chaotics: The Business of Managing and Marketing in the Age of Turbulence
"Marketing gets failing grades when it comes to understanding and using culture. In Chief Culture Officer—a delectable cultural soup that is sure to stir your taste buds—Grant McCracken makes a compelling case that culture will be marketing's next silver bullet. I whole-heartedly endorse his call for bringing culture-thinking into the company."

Ben Casnocha, author of My Start-Up Life: What a (Very) Young CEO Learned on His Journey through Silicon Valley
"This is a marvel of a business book: highly entertaining, original, and provocative. Entrepreneurs who want to understand their customers, target market, and the cultural dynamics that shape the business world—which is to say all entrepreneurs—need to read it."

Richard Grefé, CEO, AIGA | the professional association for design
"Grant McCracken, once again, sees clearly the patterns in which innovation, enterprise, and smart people can influence change, create value, and respond to popular culture, where real people experience choice. The book is terrific and spot on."

Marian Salzman, partner and chief marketing officer, Porter Novelli
"Grant McCracken has cracked the holy grail of what's next to blend talent management, corporate strategy, and trendspotting, and his storytelling style captivates and educates. I am blown away."

Henry Jenkins, author of Convergence Culture: Where Old and New Media Collide
"Building on decades of eye-opening research into the culture of consumption, Grant McCracken demonstrates why many companies get blindsided by cultural factors that were hidden in plain view, and offers a compelling argument for why they need to bring cultural expertise into their executive suite. Here's hoping more corporate executives hear his call."
or
Not Currently Available for Direct Purchase