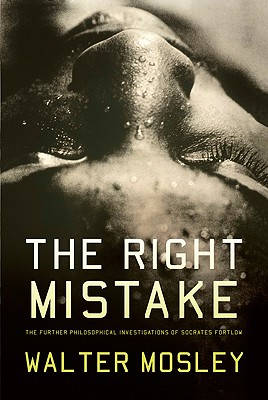 The Right Mistake
The Further Philosophical Investigations of Socrates Fortlow
Paperback

* Individual store prices may vary.
Other Editions of This Title:
Hardcover (10/7/2008)
Description
Living in south central L.A., Socrates Fortlow is a sixty-year-old ex-convict still strong enough to kill men with his bare hands. Filled with profound guilt about his own crimes and disheartened by the chaos of the streets, Socrates calls together local people of all races and social stations and begins to conduct a Thinkers' Club, where all can discuss life's unanswerable questions.

Infiltrated by undercover cops and threatened by strain from within, the Thinkers' Club doesn't't have it easy. But simply by debating racial authenticity, street justice, and the possibility of mutual understanding, Socrates and his unlikely crew actually begin to make a difference.

The Right Mistake is Walter Mosley at his most incisive. At once an affectionate and coruscating portrait of ghetto life, it abides the possibility of personal redemption and even, with great struggle, social change.
Civitas Books, 9780465018529, 288pp.
Publication Date: September 29, 2009
About the Author
Walter Mosley is one of America's most celebrated and beloved writers. A Grand Master of the Mystery Writers of America, he has won numerous awards, including the Anisfield-Wolf Award, a Grammy, a PEN USA's Lifetime Achievement Award, and several NAACP Image Awards. His books have been translated into more than twenty languages.

His short fiction has appeared in a wide array of publications, including the New Yorker, GQ, Esquire, Los Angeles Times Magazine, and Playboy, and his nonfiction has been published in the New York Times Book Review, the New York Times Magazine, Newsweek, and the Nation. He is the author of, most recently, Down the River unto the Sea. He lives in New York City.