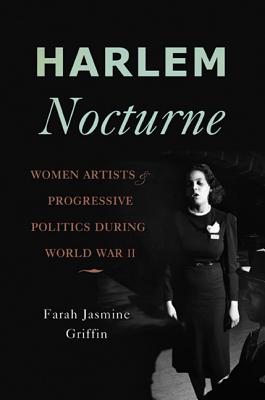 Harlem Nocturne (Hardcover)
Women Artists and Progressive Politics During World War II
Civitas Books, 9780465018758, 264pp.
Publication Date: September 10, 2013
* Individual store prices may vary.
Description
As World War II raged overseas, Harlem witnessed a battle of its own. Brimming with creative and political energy, the neighborhood's diverse array of artists and activists took advantage of a brief period of progressivism during the war years to launch a bold cultural offensive aimed at winning democracy for all Americans, regardless of race or gender. Ardent believers in America's promise, these men and women helped to lay the groundwork for the Civil Rights Movement before Cold War politics and anti-Communist fervor temporarily froze their dreams at the dawn of the postwar era.

In Harlem Nocturne, esteemed scholar Farah Jasmine Griffin tells the stories of three black female artists whose creative and political efforts fueled this historic movement for change: choreographer and dancer Pearl Primus, composer and pianist Mary Lou Williams, and novelist Ann Petry. Like many African Americans in the city at the time, these women weren't't native New Yorkers, but the metropolis and its vibrant cultural scene gave them the space to flourish and the freedom to express their political concerns. Pearl Primus performed nightly at the legendary Cafe Society, the first racially integrated club in New York, where she debuted dances of social protest that drew on long-buried African traditions and the dances of former slaves in the South. Williams, meanwhile, was a major figure in the emergence of bebop, collaborating with Dizzy Gillespie, Thelonious Monk, and Bud Powell and premiering her groundbreaking Zodiac Suite at the legendary performance space Town Hall. And Ann Petry conveyed the struggles of working-class black women to a national audience with her acclaimed novel The Street, which sold over a million copies -- a first for a female African American author.

A rich biography of three artists and the city that inspired them, Harlem Nocturne captures a period of unprecedented vitality and progress for African Americans and women, revealing a cultural movement and a historical moment whose influence endures today.
About the Author
Farah Jasmine Griffin is the William B. Ransford Professor of English Comparative Literature and African American Studies at Columbia University, and also served as the Director of the Institute for Research in African American Studies. The author of Clawing at the Limits of Cool, If You Can't Be Free, Be a Mystery, and Beloved Sisters and Loving Friends, for which she was nominated for an NAACP Image Award, Griffin lives in New York.
Praise For Harlem Nocturne: Women Artists and Progressive Politics During World War II…
NPR.org
"How these women came to prominence, what influences shaped them and how the country gave — and took away — their chances for success and prominence during the heady war years makes for a brisk and engrossing read.
Harlem Nocturne
is a slim book thick with hidden history"
Bookworm Sez
"If you want to learn more about women and the roots of social justice,
Harlem Nocturne
will make you dance"
New Yorker's
Page-Turner Blog
"
Harlem Nocturne
paints vivid and detailed portraits of three African-American women artists: Pearl Primus, Ann Petry, and Mary Lou Williams. The book brilliantly highlights their lives, work, and activism during the Second World War and beyond. All three sections were fabulous, but I especially enjoyed the section about Ann Petry, who wrote one of my favorite novels,
The Street.
"
Journal of American History
"
Harlem Nocturne
is a beautifully written tribute to black women's creativity in an age of injustice."
New York Times Book Review
"The book is a valuable study of a neighborhood whose evolution still offers a window into the black experience in America. It is also a heartfelt tribute to three remarkable artists who 'were not willing to forget or wholly forgive America's historical transgressions,' but who were devoted, Griffin writes, paraphrasing James Baldwin, 'to helping this nation 'achieve' itself.'"

New York Times' Arts Beat
"Griffin breathes life into three prominent women who lived and flourished in a Harlem brimming with clubs like Café Society and with anti-Jim Crow protests."

Ms. Magazine
"Three black women, drawn to New York during different periods and for different reasons, found themselves in Harlem pursuing successful careers as artists…Using the transformative power of their art, they questioned America's promise of democracy for all, regardless of race, and expanded the fight for black rights to a global stage. Harlem Nocturne sheds light on these and other neglected activists in the struggle for civil and human rights in the 1940s."

Publishers Weekly
"A discerning assessment.... In placing the women's artistic endeavors squarely in the context of their political activities in the midst of the Double V Campaign, Griffin adds a fresh and provocative perspective to their creative work…. The book constitutes a giant step to securing the place all three subjects merit in American cultural history. Fully accessible to general readers, it will be mined by future scholars."

Library Journal
"It is refreshing to learn about Harlem's history beyond its well-known Renaissance and to be reminded of the essential roles African Americans, women, and artists have played in U.S. history. Readers of African American, U.S., urban, or cultural history and those studying feminism, female artists, and activism will benefit from these stories."

Kirkus Reviews
"[Griffin] meticulously shows how each woman used and expanded her art to increase awareness of a society that had been ignored and abused too long. Their extraordinary talents ensured that she would find abundant information about each, and Griffin effortlessly relates each story.... An engaging biography of three remarkable women who taught art to reflect life."

Gayle Wald, author of Shout, Sister, Shout!: The Untold Story of Rock-and-Roll Trailblazer Sister Rosetta Tharpe
"Readers who accept Farah Jasmine Griffin's invitation to imagine Harlem in the 1940s through the eyes of three remarkable women—Pearl Primus, Ann Petry, and Mary Lou Williams—will be richly rewarded. Wearing her erudition lightly, Griffin brilliantly illuminates a place and time of enormous hope and achievement. Harlem Nocturne is an inspiring and inspired study of the artistic imagination in conversation with an American democracy tainted by injustice. It is, quite simply, a joy to read."

Deborah Willis, author of Posing Beauty: African American Images from the 1890s to the Present
"A definitive and arresting account of three women artists. Farah Griffin gathers an array of Harlem stories and incorporates them into a wonderfully written and well-grounded narrative describing the artistic experiences and everyday lives of these three unique women. Harlem Nocturne is both intimate and comprehensive in its exploration of black women's creativity during World War II. A rich history that investigates the imagination and originality of black women's expressive culture in mid-20th century America, this book is timely and important."

Choice
"[Harlem Nocturne] tells an important story about race, gender, artistic practice, and the 1940s. It is written for and deserves a broad general readership as well as the attention of students. Highly recommended."

National Catholic Reporter
"A fond requiem for a section of New York that inspired these artists to create and to work for social justice…an exciting and at times poetically rendered introduction to these artists and to the New York scene in the 1940s.... A fascinating read throughout, Griffin's Harlem Nocturne demands that we broaden our conception of the 'greatest generation' to include these three remarkable women who used their art to wage an important battle on the home front."

Tuscon Citizen
"This well-crafted book is a literary glimpse into a frequently overlooked period of cultural and political progress for African Americans and women. Griffin is to be commended for dusting off this rich period of history and putting both the events and the people who made it happen into rich historical context."

Booklist
"Griffin's straight-ahead accounts of the remarkable lives of these clarion and valiant artists illuminate their exceptional vision, talent, and resoluteness in overcoming formidable barriers."

Eddie S. Glaude, Jr., Princeton University, author of In A Shade of Blue: Pragmatism and the Politics of Black America
"Farah Jasmine Griffin has written, beautifully and powerfully, about the complex intersection of gender, race, and place in the lives of three extraordinary black women. In her delicate hands, Pearl Primus, Ann Petry, and Mary Lou Williams stand as 'representative women,' exemplars of imagination at work and of the daunting task of the art of living in trying political times. As we get to know them, their lives narrate a distinctive story that offers us advice about how to live with courage, power, and beauty."
or
Not Currently Available for Direct Purchase