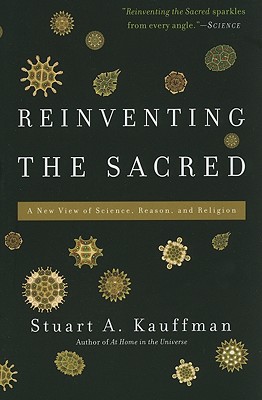 Reinventing the Sacred
A New View of Science, Reason, and Religion
Paperback

* Individual store prices may vary.
Description
Consider the woven integrated complexity of a living cell after 3.8 billion years of evolution. Is it more awe-inspiring to suppose that a transcendent God fashioned the cell, or to consider that the living organism was created by the evolving biosphere? As the eminent complexity theorist Stuart Kauffman explains in this ambitious and groundbreaking new book, people who do not believe in God have largely lost their sense of the sacred and the deep human legitimacy of our inherited spirituality. For those who believe in a Creator God, no science will ever disprove that belief. In Reinventing the Sacred, Kauffman argues that the science of complexity provides a way to move beyond reductionist science to something new: a unified culture where we see God in the creativity of the universe, biosphere, and humanity. Kauffman explains that the ceaseless natural creativity of the world can be a profound source of meaning, wonder, and further grounding of our place in the universe. His theory carries with it a new ethic for an emerging civilization and a reinterpretation of the divine. He asserts that we are impelled by the imperative of life itself to live with faith and courage-and the fact that we do so is indeed sublime. Reinventing the Sacred will change the way we all think about the evolution of humanity, the universe, faith, and reason.
Basic Books, 9780465018888, 336pp.
Publication Date: February 23, 2010
About the Author
Stuart A. Kauffman is Visiting Professor at Harvard Divinity School and Professor at the University of Calgary. He is the founding director of the Institute for Biocomplexity and Informatics. He is the author of The Origins of Order and At Home in the Universe. He lives in Calgary, Canada, and Cambridge, Massachusetts.