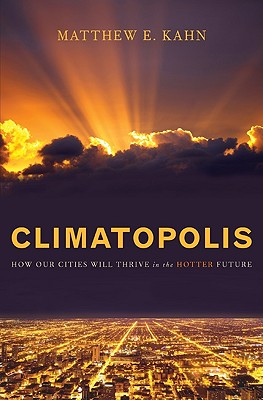 Climatopolis: How Our Cities Will Thrive in the Hotter Future (Hardcover)
How Our Cities Will Thrive in the Hotter Future
Basic Books, 9780465019267, 288pp.
Publication Date: September 1, 2010
* Individual store prices may vary.
or
Not Currently Available for Direct Purchase
Description
One of the world's leading urban and environmental economists tells us what our lives will be like when climate change arrives
About the Author
Matthew E. Kahn is a professor at the UCLA Institute of the Environment, the UCLA Department of Economics, and the UCLA Department of Public Policy. He is also research associate at the National Bureau of Economic Research. He lives in Los Angeles.
Praise For Climatopolis: How Our Cities Will Thrive in the Hotter Future…
Ray Fisman, co-author of Economic Gangsters
"Figuring out why I disagree with Matt Kahn's arguments leaves me seeing the world in a different way. That's rare. And Kahn writes so well that it's always a fun ride regardless of where the journey ends. Climatopolis is no exception. Read it for one vision of our hot, humid, hazy future."

Richard Florida, author of Rise of the Creative Class, and Director of the Martin Prosperity Institute at the University of Toronto
"How will we cope with a hotter, more crowded, and spikier world of bigger and bigger cities? Let Matt Kahn's thoroughly researched and well-written Climatopolis be your guide to our collective urban future." The Economist
"It is refreshing… to read books which look at the warming to come not as a frightful warning, nor as a fait accompli, but as something to which, at some levels of change, people will have to adapt—and which in some settings they may adapt to rather well."
Edward L. Glaeser, New York Times Economix Blog
"[E]ngaging and provocative… Professor Kahn's book provides a helpful middle ground between the extreme climate Cassandras and those who snort at climate change."
Science News
"…[M]ore vivid and accessible than a typical policy tome on global warming. Perhaps many looming climate problems can be solved with a dose of the heady cocktail that is one part human ingenuity and one part profit motive."
Foreign Policy
"…an increasingly realistic-looking thought experiment: What if we accept that environmental changes will occur, and look instead at how humanity would face a change in the planet's temperature? . . . .it would be wrong to downplay the role of market mechanisms in adapting to new environments. If indeed some form of climate change is inevitable, we will need to learn to adapt to the new conditions through responding to our own self-interest."
Advertisement