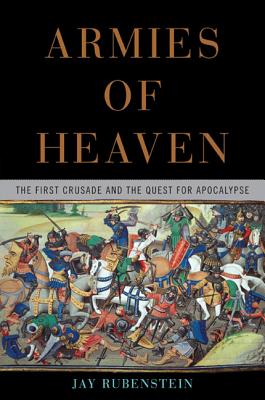 Armies of Heaven (Hardcover)
The First Crusade and the Quest for Apocalypse
Basic Books, 9780465019298, 424pp.
Publication Date: November 1, 2011
* Individual store prices may vary.
Description
At Moson, the river Danube ran red with blood. At Antioch, the Crusaders— their saddles freshly decorated with sawed-off heads—indiscriminately clogged the streets with the bodies of eastern Christians and Turks. At Ma'arra, they cooked children on spits and ate them. By the time the Crusaders reached Jerusalem, their quest—and their violence— had become distinctly otherworldly: blood literally ran shin-deep through the streets as the Crusaders overran the sacred city.
Beginning in 1095 and culminating four bloody years later, the First Crusade represented a new kind of warfare: holy, unrestrained, and apocalyptic. In Armies of Heaven, medieval historian Jay Rubenstein tells the story of this cataclysmic event through the eyes of those who witnessed it, emphasizing the fundamental role that apocalyptic thought played in motivating the Crusaders. A thrilling work of military and religious history, Armies of Heaven will revolutionize our understanding of the Crusades.
About the Author
Jay Rubenstein is an Associate Professor of Medieval History at the University of Tennessee. A former Rhodes Scholar and MacArthur Fellow, he lives in Knoxville, Tennessee.
Praise For Armies of Heaven: The First Crusade and the Quest for Apocalypse…
Kirkus Reviews
"An engaging, cautionary account emphasizing the consequences of untrammeled irrationalism."
Christopher MacEvitt, author of Crusades and the Christian World of the East: Rough Tolerance
"Rubenstein's book is a thrill to the casual reader and to the scholar alike. His prose carries the reader along with the extraordinary events of the First Crusade, effortlessly integrating the bloody realities of the battlefield, astute portraits of the leaders, and a convincing historical argument about the nature of the First Crusade.
Armies of Heaven
shows how easily piety, violence, and political scheming intermesh, but also warns against facile comparisons of medieval crusades to contemporary conflicts, the rhetoric of al-Qaeda notwithstanding. Steven Runciman's account of the First Crusade provided a standard of eloquence for the last fifty years; Jay Rubenstein's matches Runciman for style, and surpasses with a discerning eye and a sly but scathing wit."
BookForum
"Jay Rubenstein's
Armies of Heaven
is a beautifully researched, well written, and highly accessible account of the first Holy Crusade, recounting it through the lens of eschatological theory.... In unflinching detail,
Armies of Heaven
walks us step by step through the process of 'taking the cross': the preliminary pogroms against Jews, the mobilization of the armies, and their ever more violent and uncontrolled adventure to Constantinople and beyond."
S
an Francisco Book Review
"The book is about as raw as the stories beginning told. Rubenstein found a great way to tell an exciting story built on an extensive historical foundation.... This work is a perfect blend of military and religious history, with some great inner politics on the side. It is a brilliant piece of work and would be the shining jewel to a historian's shelf."
Booklist
"[A] well-written account that relies on primary sources to describe one of the seminal episodes in world history."
Jonathan Phillips, Professor of Crusading History, Royal Holloway, University of London, and author of Holy Warriors: A Modern History of the Crusades
"Impressive storytelling—Rubenstein carries the reader through this epic with real panache, lucidly conveying the giddying ebb and flow of faith, emotion, politics and brutality that so characterized the First Crusade. A powerfully argued contribution to our understanding of the people and the times of this landmark event."

Terry Jones, director of Monty Python and the Holy Grail, Monty Python's Life of Brian, and Monty Python's The Meaning of Life, and author of Terry Jones' Medieval Lives and Who Murdered Chaucer: A Medieval History
"The most fascinating and readable book about the Crusades I have read.  Jay Rubenstein gets into the heads of the Crusaders in a way no other book has.  And it's a page-turner."



Tom Bissell, author of The Father of All Things and Extra Lives
"Jay Rubenstein is a MacArthur Fellow, brilliant scholar, and genuine writer, and he knows this material inside and out. What this means is that the First Crusade—the weirdest and most historically contested crusade—has the chronicler it has long deserved. This is a story about how some adventure-seeking, religiously sincere human beings managed to create a catastrophe of hitherto unknown proportions. No book so sad should be so fascinating, and no book so serious should be such fun to read."

Mark Gregory Pegg, author of A Most Holy War: The Albigensian Crusade and the Battle for Christendom
"In 1099 a ragtag Christian army captured the city of Jerusalem from its Muslim rulers.  These warriors were the surviving remnant of thousands of other Europeans who four years earlier began an extraordinary pilgrimage to the Holy Land now known as the First Crusade.  Jay Rubenstein evocatively tells the story of this apocalyptic journey in a narrative bristling with sharp erudition and exhilarating prose.  Armies of Heaven is the most intelligent, thought-provoking, and enthralling history of the First Crusade written in the last fifty years.  A marvelous achievement."



Robert Chazan, New York University
"The First Crusade has been a source of fascination from the late eleventh century down to the present.  Recent historians have analyzed this epochal event in terms of demography, economics, secular politics, ecclesiastical politics, and ecclesiastical theory.  Jay Rubenstein asks a refreshing question:  How did the thousands and tens of thousands who joined the sacred undertaking view it?  His fascinating answer is that most of these crusaders were convinced that they were living at the cusp of the end of days, at the point in time when the world order would change dramatically.  Rubenstein's insights will profoundly enrich our understanding of the First Crusade, its glories, and its horrors."

Kirkus Reviews
"An engaging, cautionary account emphasizing the consequences of untrammeled irrationalism."

Publishers Weekly, Starred Review
"[A] rich harvest of legends and writings from the period, often apocalyptic in nature, that give us a keener insight into the minds of those who lived these tumultuous years. Rubenstein offers up a heady mix of soldiers and prophets, militants and supplicants, weaving it all into a wonderfully readable account that puts flesh on the story. A satisfying and highly recommended read in every respect."

James Reston Jr.,

Washington Independent Review of Books
"Rubenstein has accomplished something rare among historians residing in academia. His crisp writing has resulted in a book that is accessible to any intelligent reader, not just to other historians. As he says, the military events of the First Crusade have been known for a long time.  He has taken something much more abstract — the Christian mysticism that compelled and impelled these soldiers and pilgrims, mostly tribesmen from what is now France and Germany, and Normans who earlier had invaded and settled in France and southern Italy, to do glorious battle on their way to Jerusalem — and skillfully makes these concepts concrete for the reader. Armies of Heaven is a book well worth a campaign through its pages."

Dallas Morning News 
"This is a page-turning narrative of adventure. There are pauses just long enough to deal with the reader's disbelief and amazement at the successes of a holy war that should have failed. It's a good story, with plenty of characters, suspense and action.... Even from a distance of a thousand years, it stings the conscience to realize what lies beneath our relationships with the Middle East."



The Daily Beast
"A vivid writer, Rubenstein describes the apocalyptic mythologies, supernatural beliefs, and religious fervor that led tens of thousands of Christian zealots into what was arguably the world's first holy war—a war so gory and brutal that even after Jesus failed to appear as predicted many people wondered whether they had in fact witnessed the apocalypse."

Catholic News Service
"Armies of Heaven: The First Crusade and the Quest for Apocalypse is a surprise delight, rich in firsthand narrative and detail that will inform and charm both the casual and the demanding reader.... [An] accomplished medieval historian has done all the hard work so anyone can enjoy the narrative. And what a narrative it is!"