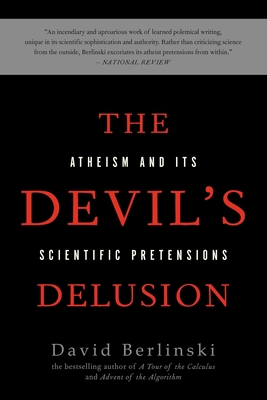 The Devil's Delusion
Atheism and its Scientific Pretensions
Paperback

* Individual store prices may vary.
Other Editions of This Title:
MP3 CD (11/3/2015)
Description
The bestselling author of A Tour of the Calculus sets off on a wise and witty assault on the pretensions of the scientific atheists.
Militant atheism is on the rise. In recent years Richard Dawkins, Sam Harris, Daniel Dennett, and Christopher Hitchens have produced a steady stream of best-selling books denigrating religious belief. These authors are merely the leading edge of a larger movement that includes much of the scientific community.In response, mathematician David Berlinski, himself a secular Jew, delivers a biting defense of religious thought. The Devil's Delusion is a brilliant, incisive, and funny book that explores the limits of science and the pretensions of those who insist it is the ultimate touchstone for understanding our world.


Praise For The Devil's Delusion: Atheism and its Scientific Pretensions…
"A powerful riposte to atheist mockery and cocksure science, and to the sort of philosophy that surrenders to them. David Berlinski proceeds reasonably and calmly to challenge recent scientific theorizing and to expose the unreason from which it presumes to criticize religion."

—Harvey Mansfield, Harvard University

"With high style and light-hearted disdain, David Berlinski deflates the intellectual pretensions of the scientific atheist crowd. Maybe they can recite the Periodic Table by heart, but the secular Berlinski shows that this doesn't get them very far in reasoning about much weightier matters."

—Michael J. Behe, author of Darwin's Black Box

"David Berlinski plus any topic equals an extraordinary book."
—Chicago Tribune

"Berlinski's book is everything desirable: it is idiomatic, profound, brilliantly polemical, amusing, and of course vastly learned."

—William F. Buckley Jr.

"An incendiary and uproarious work of learned polemical writing, unique in its scientific sophistication and authority. Rather than criticizing science from the outside, Berlinski excoriates its atheist pretensions from within."—National Review
Basic Books, 9780465019373, 256pp.
Publication Date: September 22, 2009
About the Author
David Berlinski holds a Ph.D. from Princeton University and has taught mathematics and philosophy at universities in the United States and France. The bestselling author of A Tour of the Calculus and Newton's Gift, as well as many other books, he lives in Paris.