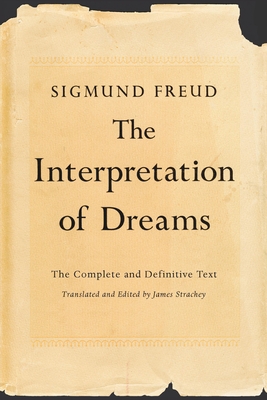 The Interpretation of Dreams (Paperback)
The Complete and Definitive Text
Basic Books, 9780465019779, 688pp.
Publication Date: February 23, 2010
Other Editions of This Title:
Digital Audiobook (3/20/2011)
Digital Audiobook (12/31/2005)
Paperback (5/31/2010)
Paperback (11/28/2018)
Paperback (2/18/2013)
Paperback (1/11/2010)
Paperback (2/2/2017)
Paperback (4/9/2010)
Hardcover (11/13/2018)
Paperback (11/13/2018)
Hardcover (6/20/2016)
Hardcover (3/4/2009)
Hardcover (10/30/2018)
Paperback (10/16/2018)
* Individual store prices may vary.
Description
The standard edition of Sigmund Freud's classic work on the psychology and significance of dreams

What are the most common dreams and why do we have them? What does a dream about death mean? What do dreams of swimming, failing, or flying symbolize?

First published in 1899, Sigmund Freud's groundbreaking book, The Interpretation of Dreams, explores why we dream and why dreams matter in our psychological lives. Delving into theories of manifest and latent dream content, the special language of dreams, dreams as wish fulfillments, the significance of childhood experiences, and much more, Freud offers an incisive and enduringly relevant examination of dream psychology. Encompassing dozens of case histories and detailed analyses of actual dreams, this landmark work grants us unique insight into our sleeping experiences.

Renowned for translating Freud's German writings into English, James Strachey--with the assistance of Freud's daughter Anna--first published this edition in 1953. Incorporating all textual alterations made by Freud over a period of thirty years, it remains the most complete translation of the work in print
About the Author
Sigmund Freud (1856-1939) was a clinical neurologist living and practicing in Vienna. His ground breaking theories of the id, ego, and super-ego of the mind continue to be studied throughout the world.
Praise For The Interpretation of Dreams: The Complete and Definitive Text…
"The groundbreaking work that launched
psychoanalysis."—Time

"A century after the book's publication,
Freud's ideas have seeped so deeply into the culture that most people invoke
them daily without being aware of it."—New York Times

"It is impossible to read The Interpretation of Dreams without
coming away wiser."—Globe & Mail

"Freud's classic. Freud has been a
dominant force in Western thinking and here's the book that started it all."—Psychology Today

"[An] epoch-making book."— Economist