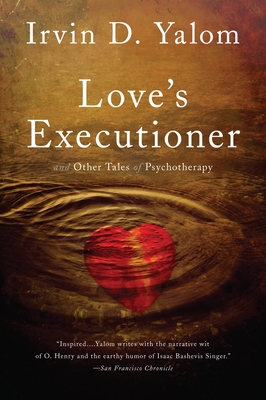 Love's Executioner
& Other Tales of Psychotherapy
Paperback

* Individual store prices may vary.
Description
In his classic, bestselling work, the masterful therapist and novelist Irvin Yalom describes his sometimes tragic, sometimes inspiring, and always absorbing encounters with patients

In this classic book, master psychotherapist Irvin D. Yalom uncovers the mysteries, frustrations, pathos, and humor at the heart of the therapeutic encounter. With insight and sympathy, Yalom not only gives us a rare and enthralling glimpse into the personal desires and motivations of ten of his patients, but also tells his own story as he struggles to reconcile his all-too-human response with his sensibility as a psychiatrist. Love's Executioner has inspired hundreds of thousands of readers already, and promises to inspire generations of readers to come.


Praise For Love's Executioner: & Other Tales of Psychotherapy…
"Inspired.... Yalom writes with the narrative wit of O. Henry and the earthy humor of Isaac Bashevis Singer."—San Francisco Chronicle

"Dr. Yalom demonstrates once again that in the right hands, the stuff of therapy has the interest of the richest and most inventive fiction."—New York Times

"Wise, humane, stirring, and utterly absorbing.... Irvin Yalom's book is charged with hope and generosity of spirit."—Newsday

"The fascinating, moving, enervating, inspiring, unexpected stuff of psychotherapy is told with economy and, most surprisingly, with humor."—Washington Post Book World

"Like Freud, Yalom is a graceful and canny writer. The fascinating, moving, enervating, inspiring, unexpected stuff of psychotherapy is told with economy and, most surprising, with humor." —Washington Post Book World

"[In Love's Executioner,] Yalom showed that the psychological case study could give readers what the short fiction of the time increasingly refused to deliver: the pursuit of secrets, intrigue, big emotions, plot."—Laura Miller, The New York Times
Basic Books, 9780465020119, 312pp.
Publication Date: June 5, 2012
About the Author
Irvin D. Yalom, MD, is professor emeritus of psychiatry at the Stanford University School of Medicine. He was the recipient of the 1974 Edward Strecker Award and the 1979 Foundations' Fund Prize in Psychiatry. He is the author of When Nietzsche Wept (winner of the 1993 Commonwealth Club gold medal for fiction); Love's Executioner, a memoir; Becoming Myself, a group therapy novel; The Schopenhauer Cure; and the classic textbooks Inpatient Group Psychotherapy and Existential Psychotherapy, among many other books. He lives in Palo Alto, California.