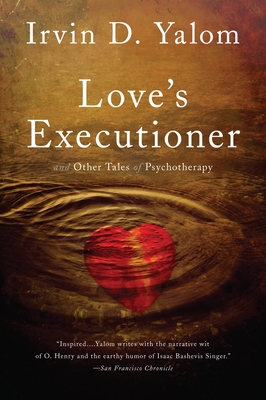 Love's Executioner (Paperback)
And Other Tales of Psychotherapy
Basic Books, 9780465020119, 285pp.
Publication Date: June 5, 2012
* Individual store prices may vary.
Description
In his classic, bestselling work, the masterful therapist and novelist Irving Yalom describes his sometimes tragic, sometimes inspiring, and always absorbing encounters with patients In this classic book, master psychotherapist Irvin D. Yalom uncovers the mysteries, frustrations, pathos, and humor at the heart of the therapeutic encounter. With insight and sympathy, Yalom not only gives us a rare and enthralling glimpse into the personal desires and motivations of ten of his patients, but also tells his own story as he struggles to reconcile his all-too-human response with his sensibility as a psychiatrist. Love's Executioner has inspired hundreds of thousands of readers already, and promises to inspire generations of readers to come.
About the Author
Irvin D. Yalom, M.D., is an emeritus professor of psychiatry at Stanford University and a psychiatrist in San Francisco. He is the author of many books, including The Gift of Therapy, When Nietzsche Wept, Staring at the Sun, and Becoming Myself.
Praise For Love's Executioner: And Other Tales of Psychotherapy…
"Dr. Yalom demonstrates once again that in the right hands, the stuff of therapy has the interest of the richest and most inventive fiction."—New York Times
"Like Freud, Yalom is a graceful and canny writer. The fascinating, moving, enervating, inspiring, unexpected stuff of psychotherapy is told with economy and, most surprising, with humor."—Washington Post Book World
"Yalom is a gifted storyteller, and from the sound of these tales, a no-less-gifted psychotherapist. He restores a sense of awe and mystery to an endeavor that all too often gets mired in the muck of jargon and categorization... In addition to bringing the reader up close to his patients, and to a process often (necessarily) cloaked in secrecy, he gives the reader an un-airbrushed picture of the therapist, warts and all."—
Los Angeles Times
"Here is the naked therapist, stripped of the armor of god-like omniscience, aware of his flaws…"—
Chicago Tribune
"Inspired....Yalom writes with the narrative wit of O. Henry and the earthy humor of Isaac Bashevis Singer."—
San Francisco Chronicle
"
Love's Executioner
is Yalom's wise, humane, stirring and utterly absorbing account of how 10 of his patients try to cope with what he calls 'existence pain'—the knowledge that death is inevitable, that each of us is ultimately alone, that life has no clear meaning, but that we nonetheless have the freedom 'to make our lives as we will'....Irvin Yalom's book is charged with hope and generosity of spirit."—
Newsday
"By his honesty and literary talent, Yalom convinces us that these are, in his words, 'everyman, everywoman stories' and that in each of these 'crazies,' in my word, is a little bit of you and me."—
Miami Herald
"Dr. Irvin Yalom ... bravely steps into this chaotic void in
Love's Executioner
... [H]e brings understanding, order, and the 'feel' of the process of psychotherapy as few before him have done."—
Toronto Star
"Dr. Yalom's point is not to merely document psychological abnormality, it is to demonstrate that 'it is possible to confront the truths of existence and harness their power in the service of personal change and growth.' Read
Love's Executioner
, and weep."—
Globe and Mail
"[Yalom's] honesty can be unnerving ...
Love's Executioner
offers a tragic, deeply felt vision of the human condition. In demystifying the therapist-patient encounter, Dr Yalom brings us into broader territory: he reminds us of our need for intimacy and trust and the struggle necessary to achieve them."—
Sunday Herald
(Melbourne, Australia)
"The vicissitudes of neurosis and its treatment have always provided irresistible material for dramatic narratives. In
Love's Executioner
Yalom demonstrates that in the right hands, the stuff of therapy has the interest of the richest and most inventive fiction."—
Arkansas Democrat-Gazette
"[I]nsightful."—
Monterey County Herald
(California)
"In
Love's Executioner
I marvelled at Yalom's courage in writing about therapeutic relationships which had not been a great success and also at his skill in bringing these encounters to life."—
Existential Analysis
(London)
"Irvin Yalom writes like an angel about the devils that besiege us. These beautifully wrought true stories go way beyond therapy; they are incisive and moving tales of life, by a wise psychotherapist."—Rollo May
"
Love's Executioner
is one of those rare books that suggests both the mystery and the poetry of the psychotherapeutic process. The best therapists are at least partly poets. With this riveting and beautifully written book, Irvin Yalom has joined their ranks."—Erica Jong
"These stories are wonderful. They make us realize that within every human being lie the pain and beauty that make life worthwhile."—Bernie S. Siegel
"This is an impressive transformation of clinical experience into literature. Dr. Yalom's case histories are more gripping than 98 percent of the fiction published today, and he has gone to amazing lengths of honesty to depict himself as a realistic flesh-and-blood character: funny, flawed, perverse, and above all, understanding."—Phillip Lopate
"These remarkably moving and instructive tales of the psychiatric encounter bring the reader into novel territories of the mind—and the landscape is truly unforgettable."—Maggie Scarf
"Dr. Yalom is unusually honest, both with his patients and about himself."—Anthony Storr
"I loved
Love's Executioner
. Dr. Yalom has learned something that fiction writers learned years ago—that people's mistakes are a lot more interesting than their triumphs."—Joanne Greenberg