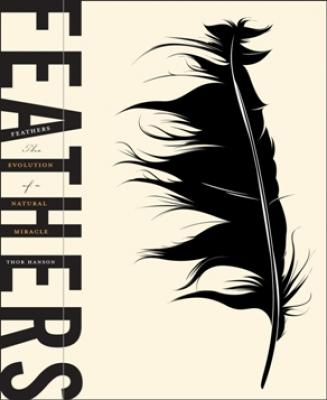 Feathers
The Evolution of a Natural Miracle
Hardcover

* Individual store prices may vary.
Other Editions of This Title:
Paperback (7/31/2012)
MP3 CD (10/6/2015)
Description
The natural and cultural history of how people, birds, and the feather came together
Praise For Feathers: The Evolution of a Natural Miracle…
Robert Michael Pyle, author of Wintergreen and Mariposa Road
"Feathers is simply a splendid book! Even for one biased toward butterfly scales, their closest competitors in the animal raiment line, feathers in all their glory can only be seen as astonishing. With elegance and wit, Thor Hanson captures not only their awesome esthetics, but also the astonishing evolution, historical and cultural impact, and sheer wonder of avian plumage. Rendered in exquisite detail with delicate touch, like a feather-painting of old, this is the best kind of natural history—quilled by a real field biologist who is also a fine writer."

Bernd Heinrich, Emeritus Professor of Biology, University of Vermont; author of Winter World and Mind of the Raven

"Feathers are truly remarkable. In this book Hanson shows how they are the key to many of the most fascinating and diverse aspects of bird biology, how they have affected our understanding of evolution, and how they have and are enriching our everyday lives. This is science written in clear and entertaining prose; a great read." 
Frank B. Gill, author of Ornithology

"Thor Hanson has captured the wonders of feathers in gripping prose that will likely change forever how you look at birds and their colorful adornments. This is rich and engaging ornithology at its best." 
Garth Stein, author of The Art of Racing in the Rain
"If you feel a sudden need to read about dinosaurs, flyfishing, muttonbirds, and showgirls, this is your book! Absolutely fascinating history, and a terrific read,
Feathers
is another Thor Hanson classic!" 
Peter Matthiessen, National Book Award winning author of The Snow Leopardand Shadow Country
"A fascinating book about the most remarkable—and beautiful—of all avian evolutionary adaptations, with wonderful accounts of ornithological investigations and the solving of biological quandaries and questions, all of it unusually well-written. Highly recommended." 
Wall Street Journal

"[Hanson] has produced a winning book about the extraordinary place of feathers in animal and human history…. like all true birdwatchers, Mr. Hanson knows it isn't just the bird at the far end of the binoculars but the human being at the near end that matters, and he is writing as much about the human urge to understand, appreciate and appropriate the wild world as he is writing about feathers, which he calls, in his subtitle, a 'natural miracle.'….
Feathers
is an earthbound book, but this does not keep the author—or the reader—from looking up in wonder." 
New York Times
"[A] fine book…. Mr. Hanson's pleasure in feathers is infectious…. [
Feathers
] is gracious, funny, persuasive and wide ranging. Feathers, Mr. Hanson reminds us, teach a remarkable amount about evolution, insulation, engineering, archaeology and fashion. Better still, as this book shows, they allow not only birds but the human imagination to take flight."
New Scientist
"[A] sparkling history…. Well-written science adds gravity to the more featherweight content of witty anecdotes – from interviews with feather-clad Las Vegas showgirls to plucking roadkill in the name of biology. The skilful way Hanson combines the two makes this book popular natural history at its best." 
Seattle
Times
"[D]elightful…. [A] fascinating inquiry into one of those common things that are easy to overlook until someone shows what a miracle it is…. Birds, the only animals with feathers today, wear these magic coats of stunning variety whose forms so perfectly fit their functions. Hanson's book reveals much about that marvelous magic." 
Library Journal (starred review)
"[E]njoyable, wide-ranging, and well-researched…. Highly recommended for birders and science buffs." 
Maclean's

"[E]ngaging…. For all the intriguing science, what really livens up Hanson's passionate discussion of his 'natural miracle' are the stories he tells."
Nature
"Thor Hanson's storytelling is enhanced by his infectious excitement…. Hanson's tale is comprehensive, accurate, timely and engaging…. Feathers is a compelling introduction to one of nature's wonders."
Science
"Hanson writes in a colorful, conversational, and non-technical manner that conveys his enthusiasm for the subject…. The book offers a readable introduction to feathers and what they mean for birds and mankind."
Bird Watcher's Digest
"To read Feathers is to meet up with an enthusiastic old friend who simply cannot wait to tell you about something he just discovered. Deceptively conversational and fast moving, disguising the true depth of information it conveys with buoyant, good-humored prose, Feathers is a book not only intellectually accessible to anyone with an interest in the subject but also one that should be considered a must-read by bird watchers and naturalists of all levels of interest or experience."
Audubon
"[C]aptivating…. Beginning with the evolution of birds, Hanson, a biologist, explains competing theories with ease, and unfolds the human fascination with feathers in terms of science, commerce, tools, folklore, art, and aerodynamics with panache. Anecdotes infuse the fascinating survey."
Montana
Outdoors
"[A] delight. As the name makes clear, it's all about feathers—their evolution, use by birds, and extremely high value to humans, from quill pens and trout flies to women's hats and Aztec emperor headdresses."
BioScience

"From basic research about bird biology and the evolutionary origins of feather to falconry, couture, and bioinspiration in industrial design, the book treats us to a series of engaging essays about feathers, both on and off the bird…. Hanson weaves his prior encounters with birds and his experiences as a scientist into the text, offering lively anecdotes about his student days and subsequent life as a professional grant-seeking field biologist. He is particularly adept at portraying how science really works…. Hanson's prose is polished, lively, and evocative. The outcome is a book that is easy and entertaining to read, yet one that is able to satisfy our intellectual curiosity.… In
Feathers
, Hanson is remarkably successful at offering something for everyone. Readers from young adults to professional ornithologists and from those interested in nature to those more interested in human culture will enjoy this book…. Ultimately,
Feathers
is a book to read for pleasure, but along the way, we gain knowledge and insight into nature and our relationship with it."
Orion"Part natural history, part portrait of human obsession that takes the author from a fly tier's bench where beautiful salmon flies are created, to Vegas dancehalls, to the secretive world of feather dyers and costume makers, Hanson's book shines with the evident love of an enthusiast…. Hanson sets out to make feathers as enthralling for the reader as they are for him—and succeeds…. Hanson's excitement rubs off on the reader, and anyone who has watched a bird and marveled will find Feathers an informative delight."
Basic Books, 9780465020133, 352pp.
Publication Date: May 1, 2011
About the Author
Thor Hanson is a conservation biologist, Switzer Environmental Fellow, and member of the Human Ecosystems Study Group. His first book, The Impenetrable Forest: My Gorilla Years in Uganda, won the 2008 USA Book News Award for nature writing. Hanson lives with his wife on an island in Washington State.
or
Not Currently Available for Direct Purchase