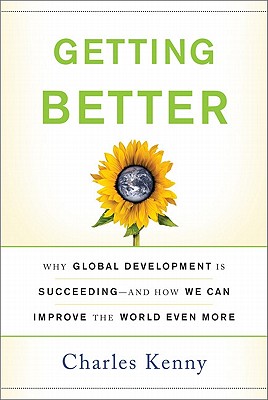 Getting Better: Why Global Development Is Succeeding: And How We Can Improve the World Even More (Hardcover)
Why Global Development Is Succeeding: And How We Can Improve the World Even More
Basic Books (AZ), 9780465020157, 246pp.
Publication Date: March 1, 2011
* Individual store prices may vary.
or
Not Currently Available for Direct Purchase
Description
An expert on the developing world reflects--with optimism--on the past fifty years of aid interventions.
About the Author
Charles Kenny is a senior economist on leave from the World Bank as a joint fellow at the New America Foundation and the Center for Global Development. He lives in Washington, D.C.
Praise For Getting Better: Why Global Development Is Succeeding: And How We Can Improve the World Even More…
Jeni Klugman, Director and Lead Author, Human Development Report, United Nations Development Programme
"This book is an important and welcome counterweight to much of the doom and gloom that pervades popular and policy discussions about Africa.  It makes important contributions in documenting the major advances in aspects of human development that have intrinsic value—health, knowledge and empowerment—that have been experienced by people in the poorest parts of the world, drawing attention to the role of ideas and innovation.   Yet Charles Kenny does not shy away from the fact that, as underlined by the 2010 Human Development Report, not all good things go together.  The extent of poverty and inequality, including but not only in terms of incomes but other dimensions of well being, remains a major concern.  There are important implications for policy makers in developing countries, and the basic message of realistic optimism should inform all those interested in development assistance and ways to sustain progress in the future."
William Easterly, Professor of Economics at New York University and author of The White Man's Burden: Why the West's Efforts to Aid the Rest Have Done So Much Ill and So Little Good and The Elusive Quest for Growth: Economists' Adventures and Misadventures in the Tropics 
"Gloom and doom have long been the default view of global poverty. It would take a clear-eyed and courageous researcher to show that the orthodox viewpoint is wrong. Such a researcher has finally appeared in Charles Kenny, who shows convincingly that most trends in human well-being worldwide, and region by region, are happily, dramatically positive. Read this delightful book and you will never look at global economic development the same way again." 
Tyler Cowen, Holbert C. Harris Professor of Economics, George Mason University

"Charles Kenny is one of the best and deepest writers on economic growth and its relationship to quality of life in the modern world.  This book represents the pinnacle of his thought." 
Felix Salmon, finance blogger for Reuters

"This nuanced and brilliant book is a must-read for anybody who wants to understand the complexity of development. Kenny doesn't traffic in trite or facile diagnoses or solutions; instead, he compellingly lays out both the obstacles to success and the good reasons to be hopeful. I learned more from this book than from any other book I've ever read: it's chock-full of important facts, corralled masterfully. Enjoy, and be illuminated!" 
Nancy Birdsall, President of the Center for Global Development

"
Getting Better
is a wonderful book: a great read, a compelling argument, and what will be a controversial bottom line – that growth is not after all necessary for poverty reduction.  In a surprising riposte to GDP-focused economists and aid skeptics, Charles Kenny brings readers not just Malthus, Arthur Lewis, Sen and Sachs, but Kipling, Tolstoy, and the unfortunate Mungo Park.  Here is a thoughtful and sweeping take on what we don't know about why countries grow and what we do know about how ideas and technology and yes aid are improving lives everywhere." 
Kirkus
"A World Bank economist's insightful examination of the effectiveness of global development. . . . Relying on a relaxed approach flecked with sarcasm and wit, Kenny's accessible and generally jargon-free prose easily guides readers through the contentious and political aspects of global development and the ideologies competing to control it.  A poignant and optimistic rebuttal to critics of global development." 
The Guardian (UK)

"After plenty of aid pessimism, here is a relentlessly cheerful polemic,
Getting Better
, which is delighting development experts in the US and the UK. Charles Kenny's book celebrates an era of unprecedented human development. . . . [and] has a very serious and really important point to make." 
Financial Times

"
Getting Better
seems likely to become a canonical addition to the development literature. It sets out a manageable thesis, argues it vigorously and with optimism, realism and humility – a refreshing combination in any field, and particularly one like international development, too often marked by hubristic confidence or histrionic despair."
Bill Gates, Wall Street Journal
"Elegant and deeply researched… The case made by Mr. Kenny in "Getting Better" is a powerful antidote to overly gloomy assessments of development aid. . . . After years of doom and gloom on the subject of foreign aid, it is refreshing to find so thoughtful and contrarian an approach to the topic. Charles Kenny shines a light on the real successes of aid, and he shows us the benefits that additional smart investment can bring."
Foreign Affairs
"From time to time, it is useful to stand back from the weekly reports of crises around the world and ask how the human race is really doing. Kenny, a World Bank economist, does this magnificently in this well-written book. . . . Kenny offers a lighthearted critical survey of what economists have had to say about the determinants of economic growth, but he argues that growth, although important and desirable, should not be the main objective."
Mark Bittman, Opinionator column, New York Times

"Original, unusual and radical thinking"
David Leonhardt, New York Times Washington Bureau Chief "There is no more important topic than the living standards of the world's seven billion people…and Kenny offers a concise, well-written, fresh take: Life has improved more than is commonly understood, and yet not nearly enough, given our resources and knowledge."
Advertisement