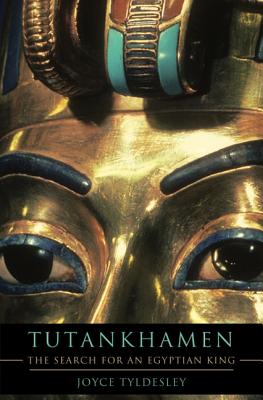 Tutankhamen
The Search for an Egyptian King
Hardcover

* Individual store prices may vary.
Description
The discovery of King Tutankhamen's tomb in 1922 was perhaps the world's most important archaeological find. The only near-intact royal tomb to be preserved in the Valley of the Kings, it has supplied an astonishing wealth of artifacts, spurred a global fascination with ancient Egypt, and inspired folklore that continues to evolve today. Despite the tomb's prominence, however, precious little has been revealed about Tutankhamen himself. In Tutankhamen, acclaimed Egyptologist Joyce Tyldesley unshrouds the enigmatic king. She explores his life and legacy as never before, and offers a compelling new window onto the world in which he lived.

Tutankhamen ascended to the throne at approximately eight years of age and ruled for only ten years. Although his reign was brief and many of his accomplishments are now lost to us, it is clear that he was an important and influential king ruling in challenging times. His greatest achievement was to reverse a slew of radical and unpopular theological reforms instituted by his father and return Egypt to the traditional pantheon of gods. A meticulous examination of the evidence preserved both within his tomb and outside it allows Tyldesley to investigate Tutankhamen's family history and to explore the origins of the pervasive legends surrounding Tutankhamen's tomb. These legends include Tutankhamen's "curse" -- enduring myth that reaffirms the appeal of ancient magic in our modern world

A remarkably vivid portrait of this fascinating and often misunderstood ruler, Tutankhamen sheds new light on the young king and the astonishing archeological discovery that earned him an eternal place in popular imagination.
Praise For Tutankhamen: The Search for an Egyptian King…
Booklist
"[An] absorbing overview of the sensational discovery of Tutankhamen in 1922.... Writing with signal clarity, Tyldesley taps into the ever-popular fascination with ancient Egypt."

The Guardian (London)
"Solidly researched and accessibly written. The range of topics covered is impressive."

Nature
"Tyldesley's account of [Howard] Carter's momentous find and the clearance of the tomb is brought to life with contemporary quotes and colourful details.... [Tyldesley is] a gifted storyteller.... Her writing is crystal-clear and charmingly irreverent.... She puts what little we know about Tutankhamun into context, giving a fascinating discussion of the discovery's social history."

Library Journal
"In this well-researched study for the general reader, Tyldesley acknowledges the fragile nature of her biographical reconstructions, presenting conflicting theories and drawing careful conclusions. Highly recommended for all Egyptophiles."

The Star-Ledger
"Tyldesley successfully evokes the intense excitement engendered by the discovery [of Tutankhamen's tomb], not only within the archaeological community but among the general public as well. Her descriptive powers allow the reader to be present as the tomb's subterranean entry is unearthed from rubble heaped by ancient and modern floods, its various chambers filled with grave goods entered and assessed, and King Tutankhamen's triple-layered coffin opened to reveal his mummified remains."

Financial Times
"Egyptology is in good hands, and so is the reader.... The prolific writer Joyce Tyldesley…has turned her storytelling abilities to [Tutankhamen], and the result is entertaining and highly readable.... Written with humour and enthusiasm."

New York Times Book Review
"In Tutankhamen: The Search for an Egyptian King, Tyldesley has written a crisp, well-researched account of emerging insights into both the life and times of the young king and the modern response, nonsense and all, to his resurrection, as it were, in the modern world."

Kirkus Reviews
"[An] engaging reconstruction of [King Tutankhamen's] tomb discovery, family and life. Fluent in her subject, Tyldesley gives her own spin to the story in order to get beyond the sensational nonsense.... Tyldesley does an admirable detective job of reconstructing the boy king's narrative."

Publishers Weekly
"An authoritative, well-documented addition to a much-trodden field of inquiry."

Sunday Times (London)
"[An] authoritative book.... If Tyldesley finds the curse stories empty nourishment, the core of her book reveals Egyptian history to be full of more satisfying riches. Sifting through the findings from Tutankhamen's tomb, and the arguments of Egyptologists since, she aims to resurrect the man behind the mask. She succeeds: Tutankhamen emerges as a credible figure, a ruler presiding over a turning point in history, when his father Akhenaten's heresies were abandoned and the polytheistic traditions revived.... That has always been Tutankhamen's power: ...to charm all who encounter him. As Tyldesley confesses, he kindled her schoolgirl fixation with ancient Egypt. She calls this 'my own personal version of Tutankhamen's curse', but if it inspires books like this, the rest of us may consider it a kind of blessing."
Basic Books, 9780465020201, 336pp.
Publication Date: March 6, 2012
About the Author
Dr. Joyce Tyldesley holds a first class honors degree in archaeology from Liverpool University, and a doctorate from Oxford University. She is currently a lecturer in Egyptology at the KNH Centre for Biomedical Egyptology, Fellow of the Manchester Museum and Honorary Research Fellow at Liverpool University. She has acted as consultant on several television projects and has excavated extensively in Egypt and Europe. Her previous books include a sequence of popular biographies of Egyptian pharaohs, with particular emphasis on the lives of prominent Egyptian women. She lives in Bolton, England.