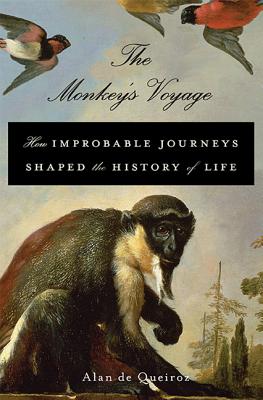 The Monkey's Voyage (Hardcover)
How Improbable Journeys Shaped the History of Life
Basic Books, 9780465020515, 368pp.
Publication Date: January 7, 2014
* Individual store prices may vary.
Description
Throughout the world, closely related species are found on landmasses separated by wide stretches of ocean. What explains these far-flung distributions? Why are such species found where they are across the Earth?

Since the discovery of plate tectonics, scientists have conjectured that plants and animals were scattered over the globe by riding pieces of ancient supercontinents as they broke up. In the past decade, however, that theory has foundered, as the genomic revolution has made reams of new data available. And the data has revealed an extraordinary, stranger-than-fiction story that has sparked a scientific upheaval.

In The Monkey's Voyage, biologist Alan de Queiroz describes the radical new view of how fragmented distributions came into being: frogs and mammals rode on rafts and icebergs, tiny spiders drifted on storm winds, and plant seeds were carried in the plumage of sea-going birds to create the map of life we see today. In other words, these organisms were not simply constrained by continental fate; they were the makers of their own geographic destiny. And as de Queiroz shows, the effects of oceanic dispersal have been crucial in generating the diversity of life on Earth, from monkeys and guinea pigs in South America to beech trees and kiwi birds in New Zealand. By toppling the idea that the slow process of continental drift is the main force behind the odd distributions of organisms, this theory highlights the dynamic and unpredictable nature of the history of life.

In the tradition of John McPhee's Basin and Range, The Monkey's Voyage is a beautifully told narrative that strikingly reveals the importance of contingency in history and the nature of scientific discovery.

About the Author
Alan de Queiroz is an evolutionary biologist and adjunct faculty at the University of Nevada, Reno. He has written widely-cited research articles on topics ranging from biogeography to the evolution of behavior to the origins of parasites. He lives in Reno, Nevada.

Praise For The Monkey's Voyage: How Improbable Journeys Shaped the History of Life…
"
The Monkey's Voyage
is a captivating look at one of biogeography's most puzzling problems, with just the right balance between science and scientific drama."
—
Science News
"Specialists and nonspecialists alike will enjoy de Queiroz's quirky, personable style and wide-ranging examples."
–
Chronicle of Higher Education
"(Alan de Queiroz) delights in telling the tales of extraordinary journeys by unlikely critters – snakes, frogs, flightless birds and even monkeys – and with these tales he reveals 'a world shaped by miracles.'"
—
Times Higher Education Supplement (UK)
"Thoroughly engrossing"
—
Maclean's (Canada)
"Entertaining and enlightening.... Beyond the actual science, de Queiroz brings insight into the nature of scientific discourse itself."
—
Publishers Weekly
"A story full of intriguing discoveries that de Queiroz, a fluent and spellbinding popular-science writer, agglomerates into the narrative spine of a book brimming with fascination."
—
Booklist, starred review
"A fascinating exploration of the field of biogeography.... An excellent storyteller, de Queiroz dramatically weaves the historical development of various scientific tropes—continental drift, plate tectonics, molecular dating, and mass extinctions—together with his own research interests and details of his far-flung travels.... [A] provocative book."
—
Library Journal, starred review
"Just how plants and animals separated by oceans have reached other continents, whether by riding on shifting tectonic plates or by their own long-distance travel, is not only a basic question of biogeography but of life on earth. De Queiroz discusses the issue brilliantly and in delightfully lucid prose....
The Monkey's Voyage
is the most fascinating and intriguing evolutionary drama I have read in a long time. I recommend the book highly to all who like scientific mysteries and have an interest in our planet."
–
George Schaller, field biologist, winner of the National Book Award, and author of The Serengeti Lion
"I have read it
[The Monkey's Voyage]
more or less straight through being unable to put it down easily. It is a rare mix such as we had in Steve Gould of brilliant science and great narrative ability."
–
Robin Fox, Professor at Rutgers University, and author of The Imperial Animal
A New York Times Editor's Choice

"[A] lively book...his tale of how the world was populated willy-nilly—and of our own fumbling attempts to understand it—makes for a splendid intellectual history."
—Wall Street Journal

"[An] entertaining book.... De Queiroz writes in a pleasant, relaxed style.... It reads like an eclectic scrapbook, full of interesting bits from hither and yon."
—New York Times Book Review

"Lucidly and captivatingly written, [de Queiroz's] narrative merges snapshots from his personal perspective with detailed descriptions of key players from the past two centuries, their characters, and lives—as if the author knew them personally...we found The Monkey's Voyage a joy to read and a great example of how a potentially dry scientific debate can be presented to attract a broad readership."
—Science

"In his engaging new book, The Monkey's Voyage, de Queiroz makes the case that the vibrant and distinctive biological communities we see today were created by organisms rafting across oceans and soaring through the atmosphere."
—Washington Post