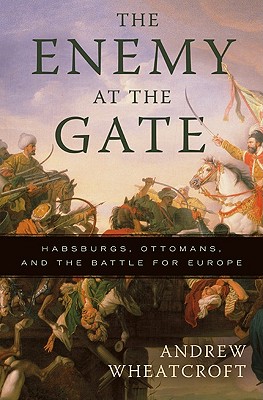 The Enemy at the Gate
Habsburgs, Ottomans, and the Battle for Europe
Paperback

* Individual store prices may vary.
Other Editions of This Title:
Digital Audiobook (6/22/2020)
Description
In 1683, an Ottoman army that stretched from horizon to horizon set out to seize the "Golden Apple," as Turks referred to Vienna. The ensuing siege pitted battle-hardened Janissaries wielding seventeenth-century grenades against Habsburg armies, widely feared for their savagery. The walls of Vienna bristled with guns as the besieging Ottoman host launched bombs, fired cannons, and showered the populace with arrows during the battle for Christianity's bulwark. Each side was sustained by the hatred of its age-old enemy, certain that victory would be won by the grace of God.

The Great Siege of Vienna is the centerpiece for historian Andrew Wheatcroft's richly drawn portrait of the centuries-long rivalry between the Ottoman and Habsburg empires for control of the European continent. A gripping work by a master historian, The Enemy at the Gate offers a timely examination of an epic clash of civilizations.
Praise For The Enemy at the Gate: Habsburgs, Ottomans, and the Battle for Europe…
"As Andrew Wheatcroft brilliantly shows in The Enemy at the Gate, the skirmishes and the pitched battles that raged for centuries between Habsburgs and Ottomans, and their numerous vassals on both sides, represented not so much a 'clash of civilizations' as a collision of empires.... [H]is narrative is thrilling as well as thoughtful, a rare combination."—New York Times Book Review

"Wheatcroft offers a riveting account of the slow, methodical Ottoman approach to Vienna.... [A] masterful account of the siege and battle."—Victor Davis Hanson, First Things

"There are two stories here worth telling and well told: the blood-and-thunder tale of the heroic defense of Vienna against the Ottomans in 1683, the surge in morale after the Habsburg victory, and the war to recover Hungary and the Balkans from the Turks. The other story is of the obsessive fear and hatred of the Turks in Christian central Europe, exorcised by the Habsburg victory at Vienna, turning to revenge and reconquest led first by Duke Charles of Lorraine, then by the legendary Prince Eugene of Savoy, ending in exhausted and bankrupt stability."—Washington Times

"[A] riveting narrative, Andrew Wheatcroft's The Enemy at the Gate...tells the story of the final Habsburg-Ottoman showdown at the gates of Vienna in 1683, one of the genuine turning points in European history."—Telegraph
Basic Books, 9780465020812, 384pp.
Publication Date: November 9, 2010
About the Author
Andrew Wheatcroft is the author of Infidels, The Habsburgs, and The Ottomans, and numerous other books. He lives in Scotland.