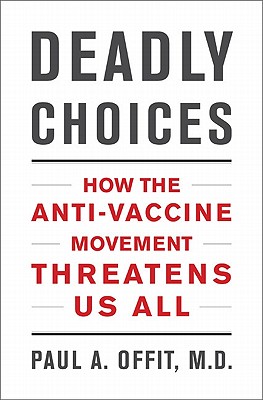 Deadly Choices
How the Anti-Vaccine Movement Threatens Us All
Hardcover

* Individual store prices may vary.
Other Editions of This Title:
Paperback (3/10/2015)
Paperback (4/3/2012)
Description
There's a silent, dangerous war going on out there. On one side are parents, bombarded with stories about the dangers of vaccines, now wary of immunizing their sons and daughters. On the other side are doctors, scared to send kids out of their offices vulnerable to illnesses like whooping cough and measles--the diseases of their grandparents.
How did anyone come to view vaccines with horror? The answer is rooted in one of the most powerful citizen activist movements in our nation's history. In "Deadly Choices," infectious disease expert Paul Offit relates the shocking story of anti-vaccine America--its origins, leaders, influences, and impact. Offering strategies to keep us from returning to an era when children routinely died from infections, "Deadly Choices" is a vigorous and definitive rebuttal of the powerful anti-vaccine movement.
Praise For Deadly Choices: How the Anti-Vaccine Movement Threatens Us All…
Perri Klass, Professor of Journalism and Pediatrics, New York University; author of Treatment Kind and Fair
"Deadly Choices carries a very important message for parents, journalists, physicians, and everyone who cares about children and health. It is a passionate, but also compassionate, call for civil discourse and rational conversation on a subject which matters so much to each of us individually and to us all as a society. It is a fascinating account of society and science, politics, publicity, and public health." 
David Oshinsky, Professor of History at the University of Texas at Austin; author of the Pulitzer Prize-winning Polio: An American Story
"A medical crisis has come to America. Diseases of our grandparents' generation are making a deadly comeback as more and more parents choose not to vaccinate their children. How did this happen? Who is responsible? And what can be done to reverse this unconscionable assault upon our nation's public health? For the answers, provided in clear, common sense, page-turning fashion, I recommend Deadly Choices by Dr. Paul Offit—a timely and courageous call to arms by the nation's foremost expert on pediatric infectious disease."
Michael Specter, Staff Writer, The New Yorker; author of Denialism
"With Deadly Choices, Paul Offit has once again brought clarity and reason to a subject that desperately needs them both. If you care about the health of your children – or the health of anybody's children – you need to read this book as soon as you can."
Robert M. Goldberg, Ph.D., Vice President, Center for Medicine in the Public Interest and author of Tabloid Medicine: How the Internet is Being Used to Hijack Medical Science for Fear and Profit
"This is a courageous book by a courageous researcher and physician. Paul Offit's new book tells the truth about the anti-vaccine movement, its unquestioning followers in the media and about the deadly consequences of their campaign of fear. Deadly Choices demonstrates that the enemies of immunizations are successful because too many of us have remained silent in the face of their falsehoods and intimidation. Dr. Offit shows that by standing up for science we can win the war against those who would leave our children defenseless against infectious disease."
Steven Novella, Assistant Professor and Director of General Neurology, Yale University School of Medicine
"Dr. Offit brings to life in careful and compelling detail the story of misguided and dangerous activists using bad science to attack one of the most effective public health interventions ever devised. It is a must-read cautionary tale of the abuse of celebrity, the media, misinformation and fear."
Chris Mooney, author of Unscientific America
"Paul Offit is that rarity: An eloquent, outspoken scientist with a gift for writing narrative. I cannot imagine a better counter to the scientifically challenged—and just plain dangerous—anti-vaccination movement. We're fortunate to have him."
Kirkus (starred review)
"Offit takes aim at the anti-vaccine movement in America and scores a bull's-eye.... A much-needed book with solid evidence – deserves all the publicity it can get."
Booklist (starred review)
"Infectious disease expert Offit, long an outspoken and prolific champion of universal immunization via vaccines, ratchets up the urgency of his crusade by taking on the loudest and highest-profile spokespersons for the anti-vaccine movement…. Armed with his own arsenal of anecdotal horror stories that focus on worst case histories of the unvaccinated, mostly children, in addition to pages of scientific study citations supporting his premise, Offit pulls no punches. His tone is edgier than usual this time, his arguments more virulent. It is clear that he wants his message and the facts, not rumors or infectious diseases, to go viral."
Science News
"In a meticulously researched tour de force, Offit exposes the lack of science underlying the claims of the anti-vaccine movement…. In 2009 and 2010, U.S. courts ruled against claims linking autism with vaccines. Still, many vaccine opponents aren't persuaded, and they have talk show access and Hollywood friends. To level the playing field, every doctor's office should have a copy of Offit's book, giving parents the other side of the story."
Financial Times
"Offit… is a rare combination of scientist, doctor, communicator and advocate. In Deadly Choices, he powerfully lays out the history of vaccinations and their net benefit to society today."
Journal of the American Medical Association "Deadly Choices masterfully presents the history of the antivaccine movement, which finds its origin in the time of Edward Jenner, and provides a devastating rendition of the antiscientific mentality that animates the celebrities and physicians alike who grant this movement moral legitimacy…. It is my belief that when new histories of vaccination's prowess are written, Offit will be mentioned in the same breath as Edward Jenner, Louis Pasteur, Maurice Hileman, Jonas Salk, Albert Sabin, Baruch Blumberg, Max Theiler, Robert Austrian, and the other giants of vaccinology who have incalculably benefitted humankind…. I recommend Deadly Choices, in the highest possible terms, as an anecdote and tool to fight for the glory of vaccines. The survival of humankind depends on it."
Basic Books, 9780465021499, 288pp.
Publication Date: February 1, 2011
About the Author
Paul A. Offit, MD, is the Chief of the Division of Infectious Diseases and the Director of the Vaccine Education Center at the Children's Hospital of Philadelphia. Offit is a founding advisory board member of the Autism Science Foundation.
or
Not Currently Available for Direct Purchase