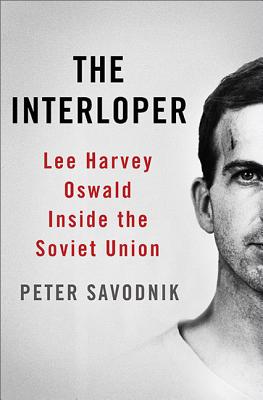 The Interloper (Hardcover)
Lee Harvey Oswald Inside the Soviet Union
Basic Books, 9780465021819, 288pp.
Publication Date: October 8, 2013
Other Editions of This Title:
Digital Audiobook (10/7/2013)
Compact Disc (10/8/2013)
Compact Disc (10/8/2013)
MP3 CD (10/8/2013)
* Individual store prices may vary.
Description
Lee Harvey Oswald's assassination of President Kennedy in 1963 remains one of the most horrifying and hotly debated crimes in American history. Just as perplexing as the assassination is the assassin himself; the 24-year-old Oswald's hazy background and motivations—and his subsequent murder at the hands of Jack Ruby—make him an intriguing yet frustratingly enigmatic figure. Because Oswald briefly defected to the Soviet Union, some historians allege he was a Soviet agent. But as Peter Savodnik shows in The Interloper, Oswald's time in the U.S.S.R. reveals a stranger, more chilling story.

Oswald ventured to Russia at the age of 19, after a failed stint in the U.S. Marine Corps and a childhood spent shuffling from address to address with his unstable, needy mother. Like many of his generation, Oswald struggled for a sense of belonging in postwar American society, which could be materialistic, atomized, and alienating. The Soviet Union, with its promise of collectivism and camaraderie, seemed to offer an alternative. While traveling in Europe, Oswald slipped across the Soviet border, soon settling in Minsk where he worked at a radio and television factory. But Oswald quickly became just as disillusioned with his adopted country as he had been with the United States. He spoke very little Russian, had difficulty adapting to the culture of his new home, and found few trustworthy friends; indeed most, it became clear, were informing on him to the KGB. After nearly three years, Oswald returned to America feeling utterly defeated and more alone than ever—and as Savodnik shows, he began to look for an outlet for his frustration and rage.

Drawing on groundbreaking research, including interviews with Oswald's friends and acquaintances in Russia and the United States, The Interloper brilliantly evokes the shattered psyche not just of Oswald himself, but also of the era he so tragically defined.


About the Author
Peter Savodnik's writing has appeared in Harper's, Time, the New York Times, the Atlantic Monthly, and many other publications. Formerly based in Moscow, he has traveled and reported extensively in the former Soviet Union. Savodnik holds a master's from the University of Chicago and lives in Washington, DC.

Praise For The Interloper: Lee Harvey Oswald Inside the Soviet Union…
Booklist
"Savodnik busts a few myths along the way; for example, pointing out that the notion that the Russians would use Oswald as a Manchurian Candidate–style programmed assassin is absurd. But his real interest lies in presenting a picture of Lee Harvey Oswald the man, not merely the murderer. A very welcome addition to the voluminous literature about the Kennedy assassination."
Library Journal
"Recommended for all who remain fascinated by Oswald, the Kennedy assassination, Cold War narratives, or infamous criminals."
Harvey Klehr, co-author of Spies: The Rise and Fall of the KGB in America
"A riveting account of a troubled loner's embrace of communism as an answer to his psychological problems. Savodnik further discredits the conspiracy theorists who have long posited an elaborate plot behind the Kennedy assassination, and reminds us yet again how often history is changed by one deranged man."
Richard Pipes, Professor of History, Emeritus, Harvard University
"
The Interloper
is a meticulously researched account of the three years spent in the Soviet Union by Lee Oswald, a semi-literate failure who could find a home neither in his native America nor in the USSR. It explains a great deal about the psyche of the man who robbed us of John F. Kennedy."
Editor's Choice, New York Times Book Review
"An incisive study of a pivotal sojourn."

New York Times Book Review
"[A] penetrating study of Oswald's pivotal sojourn in the Soviet Union."

The Economist
"An exemplary biography of Lee Harvey Oswald.... A finely drawn picture.... Mr. Savodnik knows how to bring to life the dull grey world of the Soviet provinces. With a knack for characterisation, he turns his subject into a real person: unattractive, unfortunate and often violent.... Obsessives will doubtless quibble with Mr. Savodnik's calm analysis. For others, the messy, contradictory and ultimately tragic story he tells will ring true."

Vanity Fair
"A deep probe into the sketchy backstory of the triggerman."

Washington Post
Most investigators of the assassination of President John F. Kennedy have worked to tie Lee Harvey Oswald to physical evidence or to suspicious relationships. In The Interloper, Peter Savodnik does something simpler: He explains Oswald's motive. After all this time, hasn't that been the most vexatious question?

National Review
"The accumulation of quotidian detail in The Interloper will startle even hard-core assassination buffs. The rendering of Oswald as a real man, a fathomable character with grandiose thoughts and primal urges, favorite books and private hurts, a tragic childhood and a diffident personality, is Peter Savodnik's great accomplishment."

Dallas Morning News
"The most original and interesting book to appear in this season of commemoration… Savodnik's re-creation of Oswald's time in Russia is brilliant."

Texas Monthly
"The best new book on the assassination."

Times, London
"A much-needed account of Lee Harvey Oswald… Savodnik's book is good enough (and it is very good) to allow the reader sometimes to draw different conclusions from those of the writer."

Publishers Weekly
"Savodnik here delivers a genuine biography that emphasizes the nearly three years Oswald spent in the Soviet Union and attempts to address the oft-neglected question of why he wanted to kill the President.... Savodnik's impressive research...paints an intriguing portrait of a restless, tormented soul who accomplished little in a short life until he turned himself into an infamous historical figure."