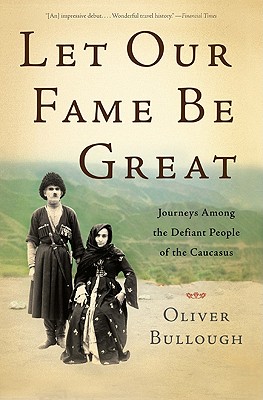 Let Our Fame Be Great: Journeys Among the Defiant People of the Caucasus (Hardcover)
Journeys Among the Defiant People of the Caucasus
Basic Books (AZ), 9780465021840, 496pp.
Publication Date: August 3, 2010
* Individual store prices may vary.
or
Not Currently Available for Direct Purchase
Description
The jagged peaks of the Caucasus Mountains have hosted a rich history of diverse nations, valuable trade, and incessant warfare. But today the region is best known for atrocities in Chechnya and the 2008 war between Russia and Georgia.
In "Let Our Fame Be Great," journalist and Russian expert Oliver Bullough explores the fascinating cultural crossroads of the Caucasus, where Europe, Asia, and the Middle East intersect. Traveling through its history, Bullough tracks down the nations dispersed by the region's last two hundred years of brutal warfare. Filled with a compelling mix of archival research and oral history, "Let Our Fame Be Great" recounts the tenacious survival of peoples who have been relentlessly invaded and persecuted and yet woefully overlooked.
About the Author
Oliver Bullough studied modern history at Oxford University before moving to St. Petersburg, Bishkek, and Moscow. Writing for local newspapers and then for Reuters news agency, he reported from Russia, Georgia, Ukraine, and Kyrgyzstan. He now lives in Hackney, East London.
Praise For Let Our Fame Be Great: Journeys Among the Defiant People of the Caucasus…
Financial Times
"[An] impressive debut....Wonderful travel history....With this impassioned volume [Bullough] has struck a blow for the glory of the Caucasus and helped to give voice to the voiceless."

New Statesman
"Bullough should be congratulated on his brave and tireless investigations into an under-reported region of the world."

Sunday Times(UK)
"The Caucasus is a frontier land of high, jagged snow peaks, ruined flint fortresses and pine forests that have hidden centuries of bare-rock rebellion by warrior nations. Waves of uprising, conquest, deportation, exile and resettlement have pitted the peoples of the north Caucasus against Russia for hundreds of years and continue to do so still. Oliver Bullough's book is a painstaking, sensitively reported effort to knit together their lost history."

Times(UK)
"How much do you want or need to understand about a far-off place of which we know little? More than you would think, to judge by the enthusiasm of Oliver Bullough, who brings us exciting news, presented as short, gripping stories that tell of the terrible things that happen to people caught up in constant warfare, who have long struggled for survival and suffered not only diaspora but enforced deportation. The history of their resistance and resilience has been largely unknown for two centuries. Now their stories are sung by a champion and will resound beyond their boundaries."

Norman Stone, Director of the Center for Russian Studies at Bilkent University, and author of The Atlantic and Its Enemies and World War One
"This wonderful, moving book flashes backwards and forwards over a terrain almost impossible to survey, and manages the feat."

Orlando Figes, author of The Whisperers: Private Life in Stalin's Russia and A People's Tragedy: The Russian Revolution: 1891-1924
"Lively and impassioned… a tragically neglected corner of our world."

Spectator(UK)
"Let Our Fame Be Great is a treat. It is finely bound, with excellent maps, and Bullough draws you irresistibly into his narrative, fusing reportage, history and travelogue in colourful, absorbing prose..... He tells a brilliant story, interweaving personal reportage with impressive reading, both in the Caucasus and its far-flung diaspora."

Kirkus (Starred Review)
"A gripping, often sanguinary account of the history, culture and current status of the people for whom the Caucasus has been home, battleground and slaughterhouse… this is a fearless examination of a brutal place… A remarkably illuminating window into a world of neglected people and deleted history."
Independent (UK)
"Remarkable....Powerfully-written."
The Economist (UK)
"Oliver Bullough's first book marks him out as a distinguished researcher, observer and narrator....His research is formidable." Financial Times (London)"A courageous young journalist illuminates one of the world's most ethnically and culturally diverse regions. His travels and historical back-stories show that contemporary brutality in Chechnya is nothing new, and reminds us of the fate of whole nations such as the Circassians, scattered to the winds by Russian imperialism." The New Republic
"[I]mpressively researched and devastating… Bullough's book combines intimate personal accounts, formidable historical research, and first-hand observations collected during years of reporting in the region into a heart-scraping testimony of Russia's systematic and deliberate brutality in the North Caucasus—and the cruel acts of terror that it continues to provoke." Christian Science Monitor"[C]ompelling. . . . As Bullough dashes and darts us through the amazing and forgotten episodes of the region, we see that this is a book of discoveries… cultural history filtered through the eyes and heart of a bright and earnest young writer… fresh and vital, admiring and frustrated." The Sunday Times (London) Books of the Year"Oliver Bullough…clearly put his heart and soul into his grand, furious Let Our Fame Be Great." Times Literary Supplement (London)"Let Our Fame Be Great is a beautifully written piece of reportage intertwined with historical narrative." The Scotsman"[A]s Bullough shows time and again in a book that effortlessly mixes on-the-spot reportage and a wide-ranging history, though the Caucasian highlanders' suffering has been great, their fame has not." The Guardian (London)"Raw, romantic, almost Byronic" The Explorer's Journal "[Bullough] bravely entered this dangerous, haunted region to learn about and tell the sad, brutal story of war, genocide, and survival. . . . More than simply chronicle the destruction, Bullough explores the culture, literature, history, and personalities to present a more rounded portrait of the region."
Advertisement