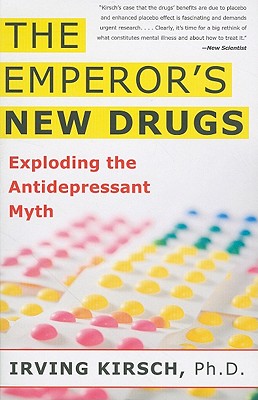 The Emperor's New Drugs (Paperback)
Exploding the Antidepressant Myth
Basic Books, 9780465022007, 240pp.
Publication Date: March 8, 2011
Other Editions of This Title:
MP3 CD (6/1/2012)
Audio Cassette (6/1/2012)
Paperback, Large Print, Large Print (10/1/2010)
Compact Disc (6/1/2012)
Pre-Recorded Audio Player (7/1/2012)
* Individual store prices may vary.
Description
Irving Kirsch has the world doubting the efficacy of antidepressants. Based on fifteen years of research, The Emperor's New Drugs makes an overwhelming case that what the medical community considered a cornerstone of psychiatric treatment is little more than a faulty consensus. But Kirsch does more than just criticize: He offers a path society can follow to stop popping pills and start proper treatment.
About the Author
Irving Kirsch, Ph.D., a native of New York City, is a professor of psychology at the University of Hull, United Kingdom, as well as professor emeritus at the University of Connecticut. He lives in Hull, England.
Praise For The Emperor's New Drugs: Exploding the Antidepressant Myth…
New Scientist
"[Kirsch's] case that the drugs' benefits are due to placebo and enhanced placebo effect is fascinating and demands urgent research…Clearly, it's time for a big rethink of what constitutes mental illness and about how to treat it."

Literary Review (UK)
"[B]rilliantly subversive… a fascinating and disturbing book."

Kelly Lambert, PhD, Professor of Psychology, Randolph-Macon College; President, International Behavioral Neuroscience Society; Author of Lifting Depression
"Considering the crude and nonspecific therapies that have been historically available for depression, the thought of a pill acting as an effective agent against the tumultuous symptoms of this disease was appealing to everyone in the mental health industry. But, as Irving Kirsch points out in this provocative and informative treatise, The Emperor's New Drugs, this dream ultimately turned out to be a fairy tale. There was no prince of healing to provide the promised relief for patients. Kudos to Dr. Kirsch for his impressive scientific investigative reporting described in this book, forcing our attention away from the fairy tale and toward the reality of more effective treatment strategies for depression."

David D. Burns, author of

Feeling Good: The New Mood Therapy
"A beautifully written, profoundly important book."

Druin Burch, author of Taking the Medicine
"A terrific account of how optimism, greed and scientific incompetence have misled us about the nature of depression and the drugs we throw at it."

Psychology Today
"[The Emperor's New Drugs] absolutely dismantles the case for antidepressants as a pharmacologically effective treatment."

Publishers Weekly
"Writing with a broad audience in mind, Kirsch expands on this important topic in a lively style with clear, cogent explanations of the science involved, and many examples of the differences between solid and flawed research. The result is a fascinating book with broad implications for science policy."

St. Petersburg Times 
"Measured and laserlike in focus…The Emperor's New Drugs dismantles the case for antidepressants as a pharmacologically effective treatment."

Charlotte Observer
"Kirsch…uses clear no-nonsense prose to marshal the extraordinary and convincing evidence needed to support his position."