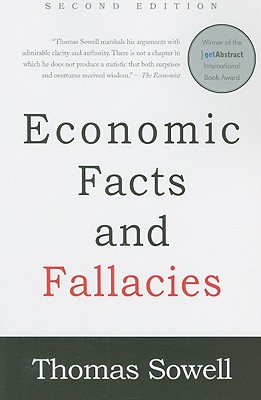 Economic Facts and Fallacies (Paperback)
Second Edition
Basic Books, 9780465022038, 304pp.
Publication Date: March 22, 2011
Other Editions of This Title:
Digital Audiobook (4/30/2008)
* Individual store prices may vary.
Description
Thomas Sowell's indispensable examination of the most popular economic fallacies
In Economic Facts and Fallacies, Thomas Sowell exposes some of the most popular fallacies about economic issues in a lively manner that does not require any prior knowledge of economics. These fallacies include many beliefs widely disseminated in the media and by politicians, such as fallacies about urban problems, income differences, male-female economic differences, as well as economic fallacies about academia, about race, and about Third World countries.
Sowell shows that fallacies are not simply crazy ideas but in fact have a certain plausibility that gives them their staying power--and makes careful examination of their flaws both necessary and important.
About the Author
Thomas Sowell is a Senior Fellow at the Hoover Institution, Stanford University. He is the author of dozens of books and the recipient of various awards, including the National Humanities Medal, presented by the President of the United States in 2003.
Praise For Economic Facts and Fallacies: Second Edition…
"Thomas Sowell marshals his arguments with admirable clarity and authority. There is not a chapter in which he does not produce a statistic that both surprises and overturns received wisdom."—The Economist

"From one of America's most noted conservative economists, a short, original book that offers some unconventional ideas about how to think about common economic topics."—Baltimore Sun

"This readable volume is a useful primer exposing how economics relates to the social issues that affect our country."—Publishers Weekly

"Sowell's book dismantles many of the pervasive fallacies running rampant in politics today, broken into categories of urban life, gender, academia, income, race, and the problems of the third world. ... In Economic Facts and Fallacies, as in his other work, Sowell makes a persuasive and powerful case, armed with a solid arsenal of statistics, numbers, and historical facts."—RealClearPolitics.com