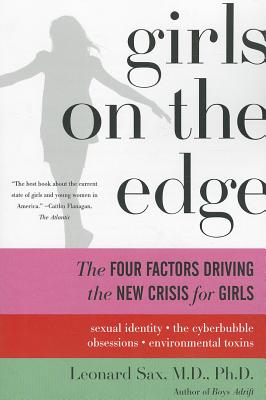 Girls on the Edge (Paperback)
The Four Factors Driving the New Crisis for Girls: Sexual Identity, the Cyberbubble, Obsessions, Environmental Toxins
Basic Books, 9780465022069, 258pp.
Publication Date: July 12, 2011
* Individual store prices may vary.
Description
Young women are at risk today. In Girls on the Edge, Dr. Leonard Sax shares stories of girls who look confident and strong on the outside but are fragile within. He shows why a growing proportion of teen and tween girls are confused about their sexual identity and obsessed with grades or Facebook. Sax provides parents with tools to help girls become confident women, along with practical tips on helping your daughter choose a sport, nurturing her spirit through female-centered activities, and more.
About the Author
Leonard Sax, M.D., Ph.D., is a graduate of MIT and the University of Pennsylvania, where he earned both his Ph.D. (in psychology) and his M.D. He is founder and executive director of the National Association for Single Sex Public Education (NASSPE). His scholarly work has been published in a variety of prestigious journals, including American Psychologist, Educational Horizons, Behavioral Neuroscience, and the Journal of the American Medical Association. He has been a featured guest on CNN, PBS, The Today Show, Fox News, NPR's Talk of the Nation, and many other national and international programs. He lives with his wife and daughter in suburban Philadelphia.