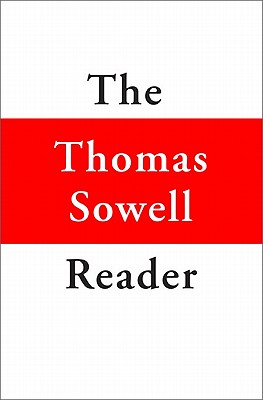 The Thomas Sowell Reader (Hardcover)
Basic Books (AZ), 9780465022502, 449pp.
Publication Date: October 4, 2011
* Individual store prices may vary.
or
Not Currently Available for Direct Purchase
Description
These selections from the many writings of Thomas Sowell over a period of a half century cover social, economic, cultural, legal, educational, and political issues. The sources range from Dr. Sowell's letters, books, newspaper columns, and articles in both scholarly journals and popular magazines. The topics range from late-talking children to "tax cuts for the rich," baseball, race, war, the role of judges, medical care, and the rhetoric of politicians. These topics are dealt with by sometimes drawing on history, sometimes drawing on economics, and sometimes drawing on a sense of humor.
About the Author
A one-volume introduction to over three decades of the wide-ranging writings of one of America's most respected and cited authors. The Thomas Sowell Reader includes essays on: Social IssuesEconomicsPolitical IssuesLegal IssuesRace and EthnicityEducational IssuesBiographical SketchesRandom Thoughts "My hope is that this large selection of my writings will reduce the likelihood that readers will misunderstand what I have said on many controversial issues over the years. Whether the reader will agree with all my conclusions is another question entirely. But disagreements can be productive, while misunderstandings seldom are." --Thomas Sowell Thomas Sowell has taught economics at Cornell, UCLA, Amherst, and other academic institutions, and his Basic Economics has been translated into six languages. He is currently a scholar in residence at the Hoover Institution, Stanford University. He has published in both academic journals and such popular media as the Wall Street Journal, Forbes, Investors Business Daily, and Fortune, and he writes a syndicated column that appears in newspapers across the country.
Advertisement