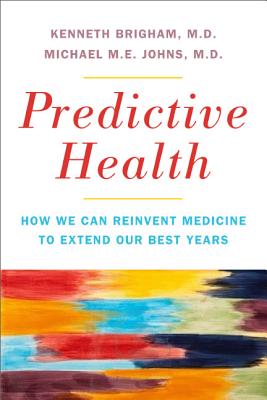 Predictive Health
How We Can Reinvent Medicine to Extend Our Best Years
Hardcover

* Individual store prices may vary.
Description
Our health care system is crippled by desperate efforts to prevent the inevitable. A third of the national Medicare budget -- nearly 175 billion -- is spent on the final year of life, and a third of that amount on the final month, often on expensive (and futile) treatments. Such efforts betray a fundamental flaw in how we think about healthcare: we squander resources on hopeless situations, instead of using them to actually improve health.

In Predictive Health, distinguished doctors Kenneth Brigham and Michael M.E. Johns propose a solution: invest earlier -- and use science and technology to make healthcare more available and affordable. Every child would begin life with a post-natal genetic screen, when potential risk -- say for type II diabetes or heart disease -- would be found. More data on biology, behavior, and environment would be captured throughout her life. Using this information, health-care workers and the people they care for could forge personal strategies for healthier living long before a small glitch blows up into major disease. This real health care wouldn't just replace much of modern disease care -- it would make it obsolete. The result, according to Brigham and Johns, will be a life defined by a long stay at top physical and mental form, rather than an early peak and long decline. Accomplishing this goal will require new tools, new clinics, fewer doctors and more mentors, smarter companies, and engaged patients. In short, it will require a revolution. Thanks to a decade-long collaboration between Brigham, Johns and others, it is already underway.

An optimistic plan for reducing or eliminating many chronic diseases as well as reforming our faltering medical system, Predictive Health is a deeply knowledgeable, deeply humane proposal for how we can reallocate expenses and resources to prolong the best years of life, rather than extending the worst.
Praise For Predictive Health: How We Can Reinvent Medicine to Extend Our Best Years…
Kirkus Reviews, starred review
"Well-written… The authors discuss their main points in accessible terms, with a mix of thorough research and real-life evidence, without getting bogged down in technical jargon. . . . A clear, insightful vision of a health care system that could bring about a better, healthier world."

Nancy L. Snyderman, M.D., Chief Medical Editor, NBC News, and Associate Clinical Professor of Otolaryngology-Head and Neck Surgery, University of Pennsylvania
"It will take courage and imagination to fix America's healthcare woes and those remedies are precisely what Drs. Brigham and Johns lay out in this brilliant book. From Einstein to Dr. Seuss, Predictive Health underscores that bold thinking is needed to right the course of our broken system. To live and die well requires a fabric of science and humanity and the prescription is between the covers of this book."

Alex Gorsky, CEO, Johnson & Johnson
"Predictive Health is a remarkable book about a remarkable vision. The fact that there are often diverging views regarding the future of healthcare is evident; what's less obvious are straightforward and innovative solutions. Doctors Kenneth Brigham and Michael Johns offer an ingeniously simple proposal—to shift medicine's focus from treating disease to maintaining and maximizing health. Characteristic of the integrative, forward-looking thinking of Dr. Johns, who long ago established himself as a thought leader in health care, Predictive Health is essential reading for anyone who is interested in preserving their health."

John R. Seffrin, Ph.D., CEO, American Cancer Society
"In Predictive Health, the authors make a strong case that we must turn our current health care system on its head, focusing not on simply caring for the sick, but on caring for the healthy—and keeping them so. Preventing disease is our greatest weapon in health care today, and Brigham and Johns paint a possible future in which we capitalize on this knowledge fully. Our pocketbooks demand we act on this, as does the fact we can save countless more lives if we do."

Daniel Callahan, Research Scholar and President Emeritus, The Hastings Center, and author of Taming the Beloved Beast: How Medical Technology Costs Are Destroying Our Health Care System
"Predictive Health is a lively and welcome contribution to what promises to be one of the most important coming stages of health care reform: to rethink the goals and aspirations of medicine itself, not merely the delivery of health care. The basic task for medicine now is to maintain good health, not just to fight disease and death. This book shows how technology can help us do that, and what kinds of social and medical changes are necessary to achieve that vital goal."

Arthur Garson, Jr., M.D., M.P.H., Director, Center for Health Policy, University of Virginia, and coauthor of Health Care Half Truths
"This is a book everyone should read—not just scientists, ethicists, and those interested in the health of our people, but the public. The authors get it: the goal is to have early old age last as long as possible and late old age last 15 minutes. They give us ways to get there that are visionary today, and will be proven to have been prophetic 30 years from now."

Edward D. Miller, M.D., Dean/CEO Emeritus, Johns Hopkins Medicine
"Predictive Health is a refreshing read—it looks at medicine in a whole new light. Instead of focusing on disease, the authors explore new ways to think about our own health. They weave together basic and applied science— including the human genome and its impact—in an understandable way. Above all, their main message is that life and death are intertwined and we humans need to learn to deal with that concept as we go through life."

Ralph Snyderman, M.D., Chancellor Emeritus, Duke University, and past CEO/President, Duke University Health System
"Medicine is undergoing a transformation from being reactive to disease events to being predictive, preventive, and personalized. In Predictive Health, two leaders of the emerging field of predictive health care give readers an informative and interesting view of this health revolution and what it means to them."

Tucson Citizen
"While most doctors seem to treat death as an enemy to be conquered, Dr. Brigham and Dr. Johns propose a different approach that is simple as it is revolutionary by suggesting that a patient's health, not the disease, be treated. . . . This is an important book."

Wall Street Journal
"In 'Predictive Health,' two founders of the Emory-Georgia Tech Predictive Health Institute envision a brave new world of personalized medicine, combining genomics with the study of how proteins and other molecules act in the body. . . . The ideas are intriguing."

Library Journal
"This is a thoughtful, detailed account of the promise of a dizzying array of technologies and disciplines geared to prevent disease. . . . The authors, both founders of Emory's predictive medicine school, are ultimately compelling in their argument for both openness to new ideas and critical thinking for the vigorous pursuit of evidence-based health measures. . . . An absorbing look at an exciting potential health-care revolution."
Basic Books, 9780465023127, 256pp.
Publication Date: October 2, 2012
About the Author
Kenneth Brigham, M.D., is a professor of medicine and associate vice president for health affairs at Emory University.

Michael M. E. Johns, M.D., is chancellor and former executive vice president for health affairs at Emory University. Over the past eight years they have collaborated to develop the Emory Georgia Tech Predictive Health Institute and its Center for Health Discovery and Well Being. Both authors live in Atlanta, Georgia. Their website is http://predictivehealth.emory.edu/