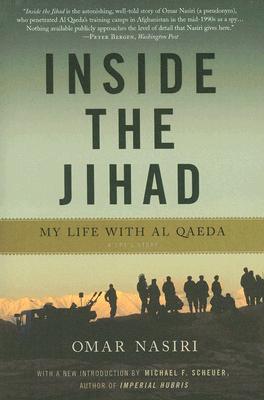 Inside the Jihad (Paperback)
My Life with Al Qaeda
Basic Books, 9780465023899, 384pp.
Publication Date: January 8, 2008
Other Editions of This Title:
Digital Audiobook (11/30/2006)
Pre-Recorded Audio Player (4/1/2008)
Compact Disc (12/1/2006)
MP3 CD (12/1/2006)
Compact Disc (12/1/2006)
* Individual store prices may vary.
Description
From Europe's burgeoning terrorist underground, to the training camps of Afghanistan, to the radical mosques of London, this is a unique and chilling insider's story of the rise of Al Qaeda and the intelligence services that struggle to contain it.
Between 1994 and 2000, Omar Nasiri worked as a secret agent for Europe's top foreign intelligence services -- including France's DGSE (Direction Générale de la Sécurité Extérieure), and Britain's MI5 and MI6. From the netherworld of Islamist cells in Belgium, to the training camps of Afghanistan, to the radical mosques of London, he risked his life to defeat the emerging global network that the West would come to know as Al Qaeda.
Now, for the first time, Nasiri shares the story of his life -- a life balanced precariously between the world of Islamic jihadists and the spies who pursue them. As an Arab and a Muslim, he was able to infiltrate the rigidly controlled Afghan training camps, where he encountered men who would later be known as the most-wanted terrorists on earth, going so far as to form a sleeper cell in Europe with Al Qaeda's top recruiter in Pakistan and London's radical cleric Abu Qatada.
A detailed portrait of a complex man who fought on both sides, Inside the Jihad is a terrifying, suspenseful look at an organization that continues to be a global threat.
About the Author
Omar Nasiri (not his real name) was born in Morocco and currently resides in Germany with his wife.
"My mind has been shaped by the West," the author tells us early in his memoir (i.e., in the opening "Omar" chapter), "by its patterns of thought, by its agitated, arrogant, thrilling individualism." Where—throughout the entirety of Inside the Jihad—can you find evidence of this shaping? In what ways is Nasiri's Western mindset an asset to him? In what ways is it a liability?
"This is the problem of modern Islam in a nutshell," writes Nasiri near the conclusion of the "Uzis" chapter. "We are totally dependent on the West—for our dishwasher, out clothes, our cars, our education, everything. It is humiliating, and every Muslim feels it." Having finished this book, and perhaps also having encountered other descriptions of the contemporary Islamic experience, would you agree with this assertion? Why or why not?
What happened to—or what transpired aboard—Air France Flight 8969? Why are these events especially pivotal for Nasiri? How do they change him, and how and why do seeing events unfold on TV influence this change?
Was Nasiri involved, either directly or indirectly, in the explosion of a car bomb outside an Algiers police station on January 30, 1995? Explain your answer.
In Brussels, the day before the raids, why does Nasiri confess to Hakim, Amin, and Yasin that he has been working for the DGSE? In what way does this decision affect him at later points in the narrative, both in Afghanistan and in England?
En route to the Afghan training camp (i.e., during the "Pakistan" chapter), Nasiri reflects on how he has "dreamed of fighting" throughout his life. What events and experiences have inspired these fantasies within him?
At the end of the "Khaldan" chapter, Nasiri writes: "That night, and every night that followed for the next year, I reminded myself that I was a spy." Why must he persistently remind himself of this? Describe the dual consciousness exhibited by Nasiri during his long stay at Khaldan. How is his experience at Derunta different in this regard?
What does Nasiri mean when he describes the Khaldan camp as "the most democratic place I had ever been?"
"I knew that Palestine was the most important jihad," writes Nasiri, "but I didn't want to go there." Why not? Where did he want to go instead, and why?
Who is, or was, Abdul Kerim? When did he reenter Nasiri's life? Describe the bond these men shared. What did they have in common, and what did they go through together? Why were they friends? Finally, in what way does this relationship prove crucial to the story of international terrorism?
Who is, or was, Ibn Sheikh? Why did he exert so much power and influence over Nasiri? And in what ways to Ibn Sheikh's teachings and behavior later give Nasiri insight into the origins of the war in Iraq? Speaking of Ibn Sheikh's revelations to American interrogators after he was captured in Afghanistan, Nasiri writes, "Somewhere, in a secret torture chamber, Ibn Sheikh had won his battle." What does he mean?
What is the Schengen agreement? How does it fit into the broader narrative of this book, especially in reference to the "Londonistan" section?
At the end of the "Galata Bridge" chapter, Nasiri describes Istanbul's Hagia Sophia—"the most beautiful mosque I had ever seen"—detailing not only the physical appearance of the place but also a portion of its history. Explain the metaphor Nasiri is constructing here in reference to religious conflict.
Revisit the book's 'Germany" chapter, where the author notes the following: "On any given day, there are thousands of people from all over the world praying to God for a chance to live in a country such as this." Having reread this passage, explain the bitter irony of this remark.
The word jihad is explained on several occasions in these pages; it's a word with a range of possible contexts and connotations: religious, political, personal, collective, etc. As a group, discuss these various meanings, and further discuss how this word has been, in Nasiri's opinion, persistently misunderstood by the West.
When Nasiri closes the book with the sentence "This is my jihad," what is he referring to? Do you believe that he is sincere? Do you think his motivations have been consistent from the beginning of the story to the end? How reliable a narrator of his own life is Nasiri?
or
Not Currently Available for Direct Purchase