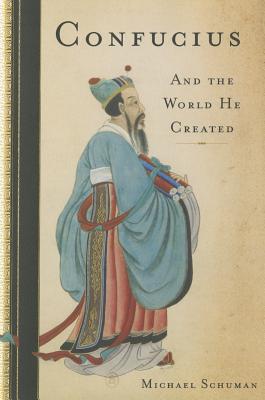 Confucius (Hardcover)
And the World He Created
Basic Books, 9780465025510, 320pp.
Publication Date: March 3, 2015
Other Editions of This Title:
Digital Audiobook (3/31/2015)
* Individual store prices may vary.
Description
Confucius is perhaps the most important philosopher in history. Today, his teachings shape the daily lives of more than 1.6 billion people. Throughout East Asia, Confucius's influence can be seen in everything from business practices and family relationships to educational standards and government policies. Even as western ideas from Christianity to Communism have bombarded the region, Confucius's doctrine has endured as the foundation of East Asian culture. It is impossible to understand East Asia, journalist Michael Schuman demonstrates, without first engaging with Confucius and his vast legacy.

Confucius created a worldview that is in many respects distinct from, and in conflict with, Western culture. As Schuman shows, the way that East Asian companies are managed, how family members interact with each other, and how governments see their role in society all differ from the norm in the West due to Confucius's lasting impact. Confucius has been credited with giving East Asia an advantage in today's world, by instilling its people with a devotion to learning, and propelling the region's economic progress. Still, the sage has also been highly controversial. For the past 100 years, East Asians have questioned if the region can become truly modern while Confucius remains so entrenched in society. He has been criticized for causing the inequality of women, promoting authoritarian regimes, and suppressing human rights.

Despite these debates, East Asians today are turning to Confucius to help them solve the ills of modern life more than they have in a century. As a wealthy and increasingly powerful Asia rises on the world stage, Confucius, too, will command a more prominent place in global culture.

Touching on philosophy, history, and current affairs, Confucius tells the vivid, dramatic story of the enigmatic philosopher whose ideas remain at the heart of East Asian civilization.

About the Author
Michael Schuman has been a correspondent for Time and the Wall Street Journal, covering Asia and the global economy. The author of The Miracle: The Epic Story of Asia's Quest for Wealth, Schuman lives in Beijing, China.

Praise For Confucius: And the World He Created…
O.A. Westad, author of Restless Empire: China and the World since 1750
"A fine account of Confucius' world, and of the use and misuse of the Master's thinking throughout Chinese history. Whoever wants to understand China must start with Master Kong!"
Jon Huntsman, former United States Ambassador to China
"Michael Schuman's book is nothing short of indispensable reading for anyone trying to comprehend the local, regional, and global impact of China and its motivating philosophical underpinnings. Today's China is an extension of its past and Confucius' guiding influence remains at its core. China is incomprehensible without this intellectual framework. To that end,
Confucius
is a generationally significant contribution."
Evan Osnos, author of Age of Ambition: Chasing Fortune, Truth, and Faith in the New China
"To understand the philosophical heart of East Asia, read this book. In his vibrant and engaging portrait of Confucius, Michael Schuman gives us the sage as we've never seen him, undeniably shaping modern politics, business, and private life for a quarter of humanity. It is a marvel of intelligent research, great reporting, and clear analysis."
Winner of the 2015 Nautilus Book Award winner in the Religion/Spirituality of Eastern Thought category

Wall Street Journal
"Lively and well-rounded.... A very satisfying account."

Asian Review of Books
"Wonderful.... No reader could do better than Michael Schuman as a contemporary guide to Confucius. Confucius emerges from these pages a real human figure, not an icon from the past, and his philosophy is attractive and alive, too."

Literary Review (UK)
"Schuman has done a difficult thing. He has produced a book introducing new readers to a great subject in plainly written English, while explaining with considerable force the ideas related to that subject, which happens to be one on which academics and politicians hold strongly differing opinions. [An] enlightening and well-balanced book."

Open Letters Monthly
"It's not easy to write well for non-experts about a deeply foreign system of thought. It's virtually impossible to do so fairly when that system has developed over millennia and continues to animate people increasingly feared as civilizational rivals. But Michael Schuman has done it, telling the story of Confucianism, explaining what makes it unique, and considering with refreshing fairness the challenge it poses to the complacency of western culture — all in a short book composed with the vivid energy of journalism."

Publishers Weekly
"Part biography, part history, and part analysis of Chinese current affairs, this remarkable book…traces the lasting influence of Confucianism in China, despite enormous political and social changes in Chinese society."

Library Journal
"A great read for anyone interested in Confucius, philosophy, or culture in East Asia."

NPR's International Desk's list of Favorite Reads of 2015
"The book has an interesting structure that looks at Confucius from various angles — as a man, a sage, a chauvinist, a businessman — that allows Schuman to track Confucius' life, teachings and relevance over time. Schuman sprinkles easily digestible anecdotes throughout the book including original reporting and observations of his own."