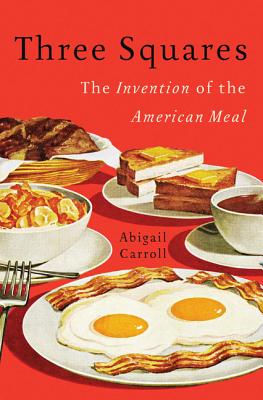 Three Squares
The Invention of the American Meal
Hardcover

* Individual store prices may vary.
Description
We are what we eat, as the saying goes, but we are also how we eat, and when, and where. Our eating habits reveal as much about our society as the food on our plates, and our national identity is written in the eating schedules we follow and the customs we observe at the table and on the go.

In Three Squares, food historian Abigail Carroll upends the popular understanding of our most cherished mealtime traditions, revealing that our eating habits have never been stable -- far from it, in fact. The eating patterns and ideals we've inherited are relatively recent inventions, the products of complex social and economic forces, as well as the efforts of ambitious inventors, scientists and health gurus. Whether we're pouring ourselves a bowl of cereal, grabbing a quick sandwich, or congregating for a family dinner, our mealtime habits are living artifacts of our collective history -- and represent only the latest stage in the evolution of the American meal. Our early meals, Carroll explains, were rustic affairs, often eaten hastily, without utensils, and standing up. Only in the nineteenth century, when the Industrial Revolution upset work schedules and drastically reduced the amount of time Americans could spend on the midday meal, did the shape of our modern "three squares" emerge: quick, simple, and cold breakfasts and lunches and larger, sit-down dinners. Since evening was the only part of the day when families could come together, dinner became a ritual -- as American as apple pie. But with the rise of processed foods, snacking has become faster, cheaper, and easier than ever, and many fear for the fate of the cherished family meal as a result.

The story of how the simple gruel of our forefathers gave way to snack fixes and fast food, Three Squares also explains how Americans' eating habits may change in the years to come. Only by understanding the history of the American meal can we can help determine its future.
Praise For Three Squares: The Invention of the American Meal…
Andrew F. Smith, author of Eating History: 30 Turning Points in the Making of American Cuisine
"Why do Americans eat what we eat at breakfast, lunch, and dinner? Abigail Carroll examines the American meal from colonial times to the present in Three Squares, providing delicious insights along the way.
Three Squares
is superbly researched, delightfully written, packed with insights—and easy to digest!"
Warren Belasco, author of Meals to Come: A History of the Future of Food, and Visiting Professor of Gastronomy, Boston University
"Combining scholarly rigor with lively storytelling, Abigail Carroll offers a fresh look at American culinary history. Resisting the nostalgia often associated with discussion of family meals, Carroll argues that American dining rituals are relatively modern and are constantly evolving to meet contemporary needs and values. This masterful synthesis will delight both professional scholars as well as newcomers to the exciting new field of food history. Highly recommended!"—
-Bee Wilson, author of Consider the Fork
"I was enthralled by this account of how radically America's meals have changed over time, from dinner pails to TV dinners. This vividly written book makes you see that the American way of life at any given moment has been formed by meals. We meet the 'stander-uppers' who ate quick cold working meals at lunch counters and the nineteenth-century critics who feared that six o'clock dinner would 'destroy health.'
Three Squares
shows that the tradition of an evening family meal, taken at a table, is a relatively recent innovation; but one with the power to improve not just our health but our vocabulary. 'Family meals, it turns out, are more beneficial to children's word banks than play or having adults read to them.' With warmth and scholarship, Abigail Carroll persuades us that much depends on breakfast, lunch, and dinner, as well as all the snacks in between."
Barbara Haber, author of From Hardtack to Home Fries: An Uncommon History of American Cooks and Meals
"As Abigail Carroll so skillfully explains, the pattern of American meals—three squares a day—is not a static entity but rather a social construction that has changed over time. By using imaginative sources and asking pertinent questions, Carroll traces not only the evolution of meals but of the people who have consumed them."—
-
Concord Monitor
"A fascinating, readable history."

Kirkus
"An information-packed history of American eating habits… [An] enjoyable history of American food culture."

Mark Pendergrast, author of For God, Country & Coca-Cola and Uncommon Grounds
"In Three Squares, Abigail Carroll has filled a gaping hole in our fetish for food histories. There are books on peanut butter, pumpkins, pancakes, milk, fried chicken, chocolate—the list goes on—but now we have the big picture. Learn here how the Industrial Revolution, television, and Mad Men affected how, when, and what we eat. You'll never look at breakfast, lunch, dinner, and between-meal snacks the same way again."—-
Basic Books, 9780465025527, 344pp.
Publication Date: September 10, 2013
About the Author
Abigail Carroll holds a PhD in American Studies, and her writing has appeared in a variety of journals and publications, including the New York Times. She lives in Vermont.