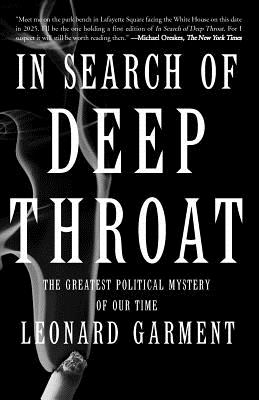 In Search of Deep Throat: The Greatest Political Mystery of Our Time (Paperback)
The Greatest Political Mystery of Our Time
Basic Books, 9780465026142, 288pp.
Publication Date: May 1, 2001
Description
More than a quarter century after Bob Woodward introduced his Scotch-drinking, cigarette-smoking, garage-skulking friend and source in All the President's Men, the public remains enduringly engrossed by the mystery of Deep Throat's identity. Leonard Garment became fascinated himself and began his own search for Deep Throat. This is the story of that hunt and its successful outcome, a hunt conducted in quintessential Washington fashion: at lunches, dinners, and parties, through the examination of secret, classified documents and testimony, and assisted by liberal doses of political gossip and insider tips from Woodward himself.
About the Author
Leonard Garment was a senior staffer to Richard Nixon. In the wake of the Watergate scandal, Garment filled the role of Counsel to the President left vacant by Haldeman and Ehrlichman. After Nixon's resignation, he continued moving in Washington legal and political circles, eventually turning his attention to writing. His book Crazy Rhythm: My Journey from Brooklyn, Jazz, and Wall Street to Nixon's White House, Watergate, and Beyond was published in 1977 to wide acclaim.
Advertisement