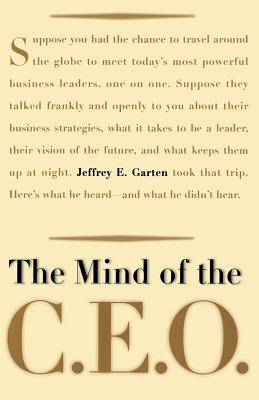 The Mind Of The CEO
The World's Business Leaders Talk About Leadership, Responsibility The Future Of The Corporation, And What Keeps Them Up At Night
Paperback

* Individual store prices may vary.
Description
The Mind of the CEO offers unprecedented access to the most dynamic business leaders of our time. Reading this book is like being at the World Economic Forum in Davos, Switzerland -- not at the formal presentations but in the hotel bar afterward, where the microphones are turned off and world-famous business leaders say what they really think. Better still, their confidant, Jeffrey Garten, interprets what they say, telling you how their views relate to each other and the world economy, and noting the many important things left unsaid. A revealing glimpse into the future of business, The Mind of the CEO captures as no other book before it what is in the minds of top business leaders and what it means for all of us.
Basic Books, 9780465026166, 320pp.
Publication Date: December 27, 2001
About the Author
Jeffrey E. Garten is dean of the Yale School of Management. He served as U.S. Under Secretary of Commerce for International Trade from 1993 to 1995, and was previously a managing director of the Blackstone Group, a Wall Street investment firm. He is author of A Cold Peace: America, Japan, Germany and the Struggle for Supremacy and has written for the New York Times, Wall Street Journal, Foreign Affairs, and Harvard Business Review. He and his wife, Ina, live in Connecticut and New York.