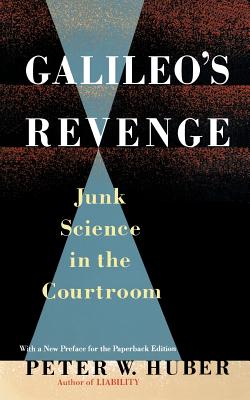 Galileo's Revenge
Junk Science in ihe Courtroom
Paperback

* Individual store prices may vary.
Description
A scathing indictment of the growing role of junk science in our courtrooms. Peter W. Huber shows how time and again lawyers have used—and the courts have accepted—spurious claims by so-called expert witnesses to win astronomical judgments that have bankrupted companies, driven doctors out of practice, and deprived us all of superior technologies and effective, life-saving therapies.
Basic Books, 9780465026241, 288pp.
Publication Date: March 24, 1993
About the Author
Peter Huber is a Senior Fellow at the Manhattan Institute's Center for Legal Policy, where he specializes in issues related to technology, science, and law. His previous books include Hard Green, Liability, and Galileo's Revenge. He lives in Bethesda, Maryland. Peter W. Huber, an M.I.T.-trained engineer and a Harvard law graduate, has also taught at M.I.T. and formerly clerked for Supreme Court Justice Sandra Day O'Connor. A Manhattan Institute Fellow, he lives in Washington, D.C.