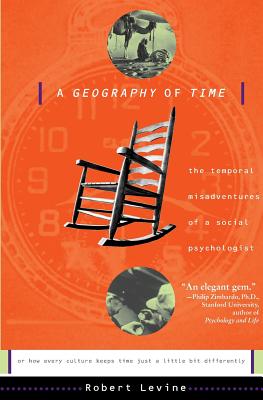 A Geography Of Time
On Tempo, Culture, And The Pace Of Life
Paperback

* Individual store prices may vary.
Description
In this engaging and spirited book, eminent social psychologist Robert Levine asks us to explore a dimension of our experience that we take for granted—our perception of time. When we travel to a different country, or even a different city in the United States, we assume that a certain amount of cultural adjustment will be required, whether it's getting used to new food or negotiating a foreign language, adapting to a different standard of living or another currency. In fact, what contributes most to our sense of disorientation is having to adapt to another culture's sense of time.Levine, who has devoted his career to studying time and the pace of life, takes us on an enchanting tour of time through the ages and around the world. As he recounts his unique experiences with humor and deep insight, we travel with him to Brazil, where to be three hours late is perfectly acceptable, and to Japan, where he finds a sense of the long-term that is unheard of in the West. We visit communities in the United States and find that population size affects the pace of life—and even the pace of walking. We travel back in time to ancient Greece to examine early clocks and sundials, then move forward through the centuries to the beginnings of "clock time" during the Industrial Revolution. We learn that there are places in the world today where people still live according to "nature time," the rhythm of the sun and the seasons, and "event time," the structuring of time around happenings(when you want to make a late appointment in Burundi, you say, "I'll see you when the cows come in").Levine raises some fascinating questions. How do we use our time? Are we being ruled by the clock? What is this doing to our cities? To our relationships? To our own bodies and psyches? Are there decisions we have made without conscious choice? Alternative tempos we might prefer? Perhaps, Levine argues, our goal should be to try to live in a "multitemporal" society, one in which we learn to move back and forth among nature time, event time, and clock time. In other words, each of us must chart our own geography of time. If we can do that, we will have achieved temporal prosperity.
Basic Books, 9780465026425, 280pp.
Publication Date: July 23, 1998
About the Author
Robert Levine, Ph.D., is professor in the psychology department at California State University, Fresno, where he has received many awards for his teaching and research. He has been a visiting professor at Universidade Federal Fluminense in Niteroi, Brazil, at Sapporo Medical University in Japan, and at Stockholm University in Sweden. He has published articles in Psychology Today, Discover, and American Scientist and has appeared on ABC's World News Tonight, Dateline, NBC, CNN, The Discovery Channel, and All Things Considered.